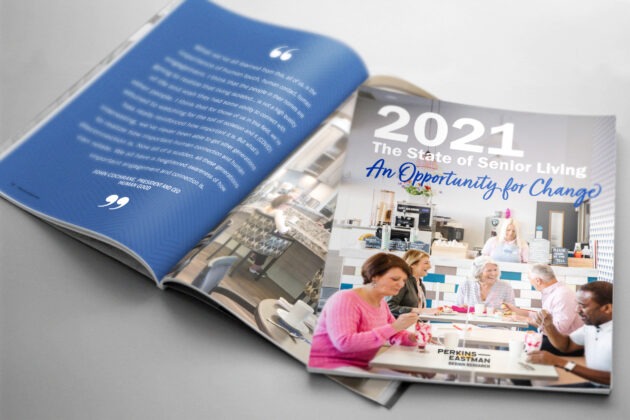 Are the current disruptions in the senior living sector brought on by the pandemic going to generate long-term change in design and operations? Is it an opportunity for change?
That's what researchers at Perkins Eastman were wondering when they surveyed and spoke to 200+ senior living industry professionals and leaders earlier this year. Here are five highlights from their study and some of the implications I think they have for for senior living design and development.
1. Operational and Design Changes Made During the Pandemic Will Continue
Respondents felt that increased operational costs will persist long-term as part of a sustained and greater focus on reducing the spread of disease.
In terms of design, staff probably won't be camping out in their offices, like some did during lockdown in March 2020. But senior living owners may have to design spaces that can house staff during times of emergency.
Large, traditional crowded dining spaces will likely be a thing of the past, replaced by smaller cafes or bistros. Or a variety of smaller, flexible dining spaces.
While it's not clear if residents will demand larger apartments as a result of the pandemic, they may be interested in ones that seem better suited for sheltering in place.
Smaller apartments can be designed or reworked so they "live bigger" than the actual square footage. Opening up the living spaces can create a larger sense of scale and views.
Also, besides more emphasis on selecting materials that don't harbor germs and/or are easy to clean, improving air handling systems will also also a priority.
2. Outlook for the Life-plan Model is Mixed
Fewer respondents than in past surveys felt that the life-plan community model is in trouble. But more felt that it is less attractive to seniors, possibly due to the entry fee structure.
Overall, there is still a positive attitude about it among industry professionals and leaders, with new models emerging, like the university/college-affiliated community.
One such project is being built on the campus of Purchase College in New York. Another one is the Spires at Barry College -- a 400,000 sq. ft. community that opened in June 2020 in Rome, Georgia.
Their goal was to create a destination retirement community that would attract alumni as well as area residents while supporting work-study options for Berry College students. What a great way to introduce young people to the field and promote inter-generational connections.
And when you think about it, universities and colleges are already in the housing business, so developing communities for seniors on or near their campuses makes a lot of sense.
3. Declining Interest for Urban, Multi-generational, and Destination Living
This one kind of surprised me, because I think these models have lots of appeal for Boomers in their 60s and 70s. But, this may be a short-term outcome due to respondents' need to focus solely on keeping residents safe in the past year instead of considering new models.
There is increased interest, though, in models that provide flexibility and choice to residents, with a focus on wellness and aging in place and/or apartments-for-life in a hybrid independent/assisted living model. I think there is a huge opportunity in senior living to use design to promote wellness, which will attract both residents and staff.
If you go down the certification route, however, the problem is that programs like WELL and Fitwel aren't necessarily suitable for senior living. However, Fitwel now has a senior living scorecard that focuses on design and operational strategies.
And modifications made to the WELL standards several years ago helped Menno Haven Rehabilitation Center in Chambersburg, Pa., become the first long-term care facility to achieve a Gold WELL Certification. Senior living designers and owners/operators can definitely learn from this project.
4. Flexibility and Integration With the Community is Important
Respondents to the survey agree that the three things most valued by residents and potential residents are a walkable community, the ability to access care without moving into another residence, and proximity to nature.
Before the pandemic, we were seeing many more walking paths and various outdoor spaces in newer senior living projects. But it's the older properties that are going to have to figure out better ways to create a walkable community and access to nature.
For example, my father lives in a life-plan community in Central Illinois that opened 15 years ago. It sits on acres of property at the edge of town, but its only outdoor activity spaces are a small dining area and some seating on a patio in-between the two memory care wings.
Until the city recently built a walking path around holding pond next to the property, residents who wanted to walk outside had to walk around the building via the parking lots. There are random benches scattered along the way but I have never seen anyone sitting in them.
5. Impacts to Skilled Nursing Likely to be Long-term and Significant
The pandemic took its worst toll on residents of institutional models of skilled nursing where people share rooms and staffing ratios are high. Many of these state-run institutions are also facing lower reimbursements and rising operating costs brought on by the pandemic.
Some may close. But skilled nursing will probably continue to play a significant role in the healthcare system for a long time.
That's because people in nursing homes are typically at least 85 years old with multiple medical conditions. They simply cannot be taken care of at home or in any other setting.
Will skilled nursing go to single rooms? Maybe, but again there's that financial issue. Many are long overdue for renovations, but I don't see that happening without government support.
So it remains to be seen what those long-term, significant impacts on skilled nursing will be.
Want More?
Check out the 16 papers and reports about senior living on the Perkins Eastman website -- including past survey findings.
Also, if you want to know more about the Menno Haven project, download the 2020 POE whitepaper on the SAGE website.
P.S. Please do me a favor -- if you liked this post and like this blog, please share it with others by sending them the link or posting it on your Twitter, LinkedIn, or Facebook. Also, don't forget to subscribe, so you'll get emails when new content is posted. Thanks!