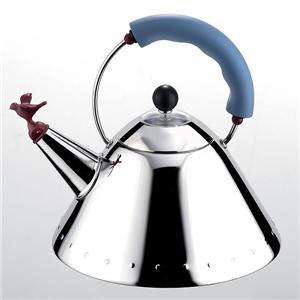 Once again, the media seems to have concluded that Michael Graves is the only architect in America that understands healthcare design.
Don't get me wrong, he is a brilliant architect who, as a result of his own medical crisis 10 years ago, has turned his attention to healthcare.  This is a good thing.
But I get tired of articles that portray him as the savior for healthcare design.  There are many talented architects and interior designers who have been advancing the field longer than Graves has.
And yet he has a voice, and a very powerful one at that.
Last week,  in an article titled "Michael Graves' Vision: Making Hospitals More Fashionable," U.S. News & World Report wrote that he favors "an empathetic architecture" which is no longer practiced today. Graves was quoted as saying, "Right now, we're in the downest cycle we can be in," he says. "The avant garde is so narcissistic."
This prompted me to post the question on LinkedIn: Do you agree with Michael Graves that the avant garde of hospital design is narcissistic? I got several responses.
Derek Parker of Medicapower (former CEO of Anshen+Allen Architects) told me "Graves does not say designers of healthcare are narcissistic, just the avant garde of architects.  With that I agree."
Michael Shanahan of Deacon Healthcare commented, "it is okay to be different and innovative if the solution is based on evidence-based design, and is ultimately patient-centered -- in lieu of self-centered options and a 'different to be different' sake to capture the next award."
Georgie Marquez-Andre of Andre Marquez Architects wrote "Oftentimes, architecture schools instill a sense of 'the architects as all-knowing go,' and as you well know, the unfortunate results of this narcissism, sadly, are most blatant in fields such as the medical/health arena, where service (as opposed to self-service) should be the guiding principle."
Jim Osborne of Genesis Planning stated "I believe that Michael Graves is narrating a factual state of affairs in healthcare architectural design that is more symptom than cause..."The serious 'disease cause' is narcissistic in part in that the "Healthcare Community" (physicians, administrators, nurses, designers , contractors, etc.) are not paying attention to reality as we move into the future. Although there is a very strong and honorable 'sustainability' movement that is incredibly effective within the architectural, MEP and builder community, there is still an overriding influence of avant garde, grandiose, win the arms race, shining beacon on the hill mentality that is just completely out of step with what the mandate of 'Healthcare Reform' really means!"
What do you think?
P.S.  Please do me a favor -- if you liked this post and like this blog, please share it with others by sending them the link and/or post it on your Twitter, LinkedIn, or Facebook, etc.  Also, don't forget to subscribe, so you'll get emails when new content is posted.  Thanks!