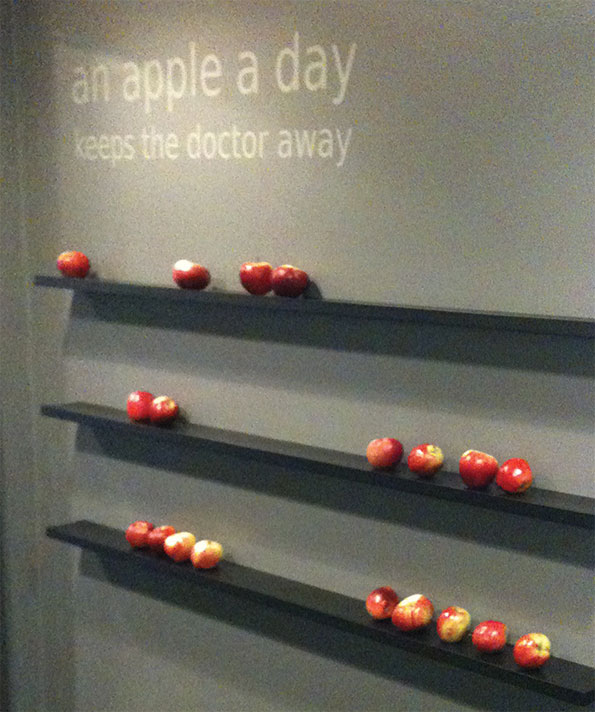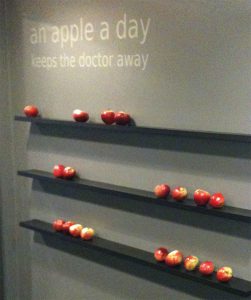 During this holiday season as many of us indulge in the treats and libations that make our waistlines expand, I'm encouraged by several things I came across this week.
One is an issue brief from the Robert Wood Johnson Foundation that found childhood obesity rates dropping in New York City, Philadelphia, parts of California, and Mississippi.
By making healthy food available in schools and communities and encouraging more physical activity, these cities and states have seen as much as a 13% decline.
Another is a story from iNudgeYou about a hotel in Sweden that charged its interior designer to create solutions that encouraged a healthy lifestyle. One of her ideas was to put shelves in the hallway to hold fresh apples with the slogan, "an apple a day…keeps the doctor away" painted on the wall above (above).
Like the initiatives undertaken by the cities and states mentioned above, this "health design nudge" resulted in a behavior change. A whole bunch of apples started being consumed by hotel guests — so many, in fact, that the restaurant manager had to order more crates of apples per week.
That's a great example of the power of design to influence behavior. And it was done with only color, paint, and shelves.
Handwashing Design Nudge
Several years ago, healthcare interior designer Roz Cama created a health design nudge to encourage handwashing by staff at Dublin Methodist Hospital by installing a strip of tile on the floor that led to the sink in patient rooms. The sink is also illuminated and the strip continues as glass tile going up the wall behind the sink. (For an article on Dublin's design, click here.)
I'm sure there are other examples, but my point is, we should start thinking about ways to incorporate more health design nudges not only in our schools and communities, but healthcare facilities too. Ones that will encourage healthy eating (steal that apple shelf idea!), exercise, handwashing, and other behaviors that affect patient and staff safety.
Oh, and don't worry about the holiday food indulgence thing. A little unhealthy eating is okay.
Just don't make it a habit.
P.S. Please do me a favor -- if you liked this post and like this blog, please share it with others by sending them the link or posting it on your Twitter, LinkedIn, or Facebook. Also, don't forget to subscribe, so you'll get emails when new content is posted. Thanks!