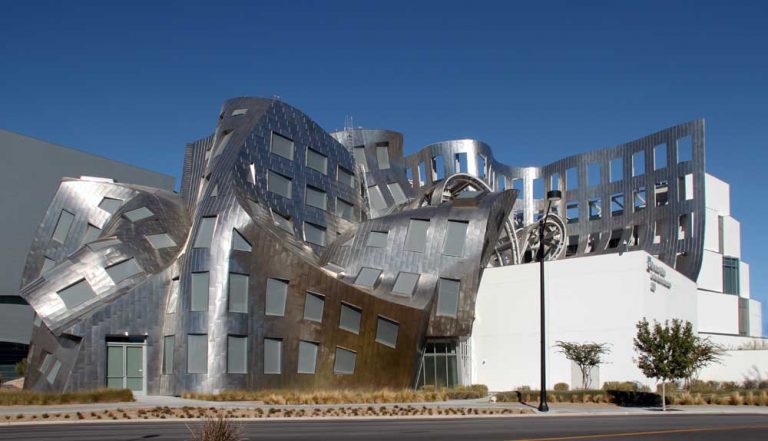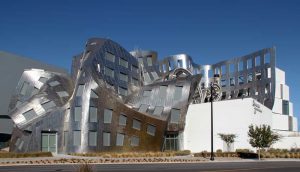 That was the question posed by Jennifer Aliber and Donald McKahan at last month's Hospital ICONs program presentation at the Healthcare Design Expo & Conference.
Though not as sexy as other civic or public buildings, many of the world's renowned architects have designed hospitals or healthcare buildings over the years -- often partnering with established healthcare design firms.
Ailber and McKahan reviewed the following starchitects' healthcare buildings:
Ceasar Pelli, Crile Building, Cleveland Clinic, Cleveland, Oh. and the Gonda Practice Integration Building, Mayo Clinic, Rochester, Minn.
Frank Gehry, Yale Psychiatric Institute, New Haven, Conn., and the Cleveland Clinic Ruvo Center for Brain Health, Las Vegas, Nev. (pictured)
Norman Foster, Hospital of the University of Pennsylvania bed tower, Philadelphia, Pa.
Louis Kahn, Salk Institute, San Diego, Calif.
Raphael Vinoly, University of Chicago Medicine Center for Care and Discovery, Chicago, Ill.
Are all these buildings iconic?  Probably not. And except for the Salk Institute (which is a research facility) little about them is innovative from a healthcare design and planning perspective.
But besides their design talent, what starchitects bring to the project is fundraising power and the ability to work with senior teams. Most of them, according to McKahan, come in with one big idea -- take it or leave it. "The best plan is rarely the first plan," he said.
More Healthcare Buildings by Starchitects
Other starchitects who've designed healthcare buildings include Frank Lloyd Wright, who designed three medical clinics in the U.S. in the 1950s. Alvar Alto's spectacular Paimio Sanatorium in Finland opened in 1933.
Zaha Hadid brought her talents to the table in 2001-2006 for Maggie's Cancer Care Centres in Scotland. And before he died in 2015, Michael Graves designed the Madonna Rehabilitation Hospital in Omaha, Neb., which was supposed to have opened in October.
Although I've never toured any of these facilities, I'd argue that the best ones mentioned here are the Salk Institute and Paimio Sanatorium. Architect Lee Mindel wrote that Paimio is "one of the most impressive buildings of the 20th century" and "a cathedral to health and an instrument for healing."
About the Hospital ICONs Program
The Hospital ICONs Program is an investigative lecture series established in 2003 to study renowned, iconic hospitals to see if they have met their project goals and determine key lessons learned. Interviews are conducted with the architects, as well as planners, administrators, and hospital staff.  Obviously, in the case of Kahn, that was not possible, but McKahan and Aliber showed some video of him talking about the project.
And because onsite tours, photography, plan studies, and other data are also important to the investigation that probably limits them as far as geography and buildings that are no longer there (like some of Wright's clinics).
But nonetheless, it's a good exercise to learn from the past. I'm not convinced that starchitects can design better healthcare buildings than some of the top healthcare design firms in the U.S., but I get why CEOs and boards may want their star power.
Want More?
Sign up for a reprise webinar presented by The Center for Health Design of McKahan and Aliber's presentation on December 13.
Photo credit:  Mary Ann Sullivan ©2012
P.S.  Please do me a favor -- if you liked this post and like this blog, please share it with others by sending them the link and/or post it on your Twitter, LinkedIn, or Facebook, etc.  Also, don't forget to subscribe so you'll get emails when new content is posted.  Thanks!