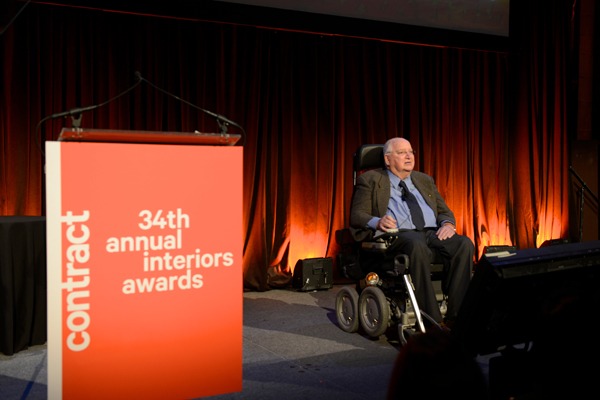 I went to the 34 Annual Interiors Awards breakfast this morning in New York with an attitude about Michael Graves, who was receiving the 2013 Legend award from Contract magazine.
Graves is undoubtedly one of the most influential architects of our time, delighting the world with post-modern buildings and interiors in the 1980s when everyone else was still in the less is more mode.  At age 78, he's spent the bulk of his career designing mostly houses hotels, libraries, museums, civic buildings — as well as products for companies like Alessi and Target.
It was only recent — when he became paralyzed 10 years ago — that Graves started thinking about healthcare, designing a line of furniture for Stryker and accessible homes for the Wounded Warrior project. But because he is a "StarArchitect," he's received a lot of attention for his healthcare work.
And that's what bugs me.  Graves does bring a unique perspective to healthcare. But to elevate him above those that have blazed the healthcare and universal design trails before him seems unfair.
New Appreciation of a Great Architect
But after listening to Graves speak — during a 10-minute video retrospective of his legacy and then in person on the stage, I have a new appreciation of the man and his work.
He is a great architect and it's good that he's focusing on healthcare design. Perhaps he will be able to challenge us to think differently and bring some new ideas to the table.
Because he's not done yet.
"I wake up every morning raring to go," Graves said in the video.  "I look forward to every day's work.  I don't have any thoughts of retiring. I'm only 78 and I do my work with such joy that I can't imagine doing anything else."
Graves' next big thing is a line of products for J.C. Penney. I'm hoping some of them will be home healthcare products.  He's also designing some orthopedic clinics in Colorado and New Jersey.
For a much better article about Graves' legacy in the field of architecture, read James Russell's profile in Contract magazine. To watch the videos of Graves and Designer of the Year Joey Shimoda, visit Contract's Vimeo site.
P.S. Please do me a favor -- if you liked this post and like this blog, please share it with others by sending them the link or posting it on your Twitter, LinkedIn, or Facebook. Also, don't forget to subscribe, so you'll get emails when new content is posted. Thanks!