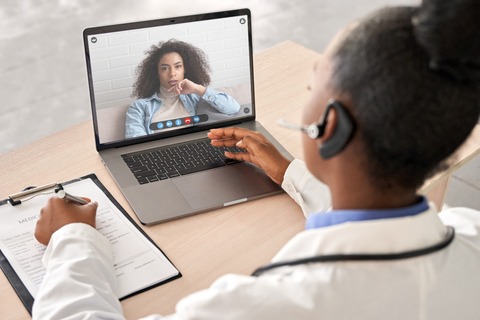 Everyone seems to be talking about designing for telehealth these days. With good reason.
While telehealth use in the U.S. was already on the rise prior to the emergence of Covid-19, it increased dramatically in March and April of this year when most of the country was in lock-down.
The U.S. government helped facilitate the use of telehealth by issuing a "Notification of Enforcement Discretion" that relaxed some of the HIPAA regulations during this national public emergency.  Among other things, this included allowing the use of non-public facing remote communication products like Apple FaceTime, Facebook Messenger video chat, Google Hangouts video, Whatsapp video chat, Zoom, or Skype.
My First Telehealth Visit
I had my first telehealth visit last spring with my doctor. She called me on her iPhone from an exam room at her office and we used FaceTime to to talk to one another.
It was pretty low tech.
But I was satisfied with this virtual care experience. And a little shocked that I was billed the same as an in-person visit. Shouldn't it be like buying an ebook vs. a hardcover book?
Maybe. Professional services aren't the same as goods. So I get that. Sort of.
What Physicians Think of Telehealth
So what do we know about telehealth that can inform design? According to a new report on telehealth from the Center for Advanced Design Research and Evaluation (CADRE), 62% of physicians think that video visits are the most effective for virtual care, followed by phone calls.
There is lots of other interesting survey data in the report. Like, the majority of physicians think that telehealth will have a neutral or negative effect on patient interactions, but a neutral or positive effect on their work/life balance.
How exactly will it effect their work/life balance? Well, the expectation is that the increase in comfort, convenience, and flexibility that telehealth provides will make their lives easier.
What about the use of space? The physicians who were surveyed believe that telehealth will ultimately increase their patient volumes, requiring clinics to maintain their existing footprint while expanding the "cloudprint."
Most are using their clinical office to conduct virtual visits, followed by home offices. And they think those spaces best support an ideal telehealth visit.
The report authors conclude from this that "space needs have not reduced, they have shifted."
Challenges Ahead
Not surprisingly, the challenges physicians see for telehealth moving forward are reimbursement and patient adoption, particularly among older adults. If providers can't get paid for virtual care, it's highly unlikely they'll continue to provide it.
However, the Centers for Medicare and Medicaid Services announced in October that it would add 11 virtual services to its reimbursement list during the COVID-19 public health emergency. That could prompt other insurers to do the same.
I think permanent changes to HIPPA regulations should also be made. Nobody dreamed we'd be sending photos and having video chats with each other on our phones when the law was enacted in 1976.
Designing for Telehealth
But let's talk about design. An issue brief on telehealth published by The Center for Health Design in partnership with the Facilities Guidelines Institute (FGI) recently outlines some guidelines for designing virtual spaces in these eight areas:
Space needs
Privacy
Acoustics
Lighting
Gaze angle and camera distance
Interior surfaces
Site identification
Equipment-associated issues
The issue brief also points out that "telehealth is not about technology, it's about people." That's a good reminder that we need to be creating spaces for telehealth that foster human connections and communicate empathy.
That's where design creativity comes in.
And although the FGI Guidelines currently contain some minimum standards for telehealth, the issue brief concludes by stating that these standards may need to be refined as "technology advances and organizations become more familiar with platforms and service options."
There's no question about that.
Want More?
Check out these other articles and blog posts on telehealth:
P.S. Please do me a favor -- if you liked this post and like this blog, please share it with others by sending them the link or posting it on your Twitter, LinkedIn, or Facebook. Also, don't forget to subscribe, so you'll get emails when new content is posted. Thanks!
Photo 188812122 © Dark1elf - Dreamstime.com