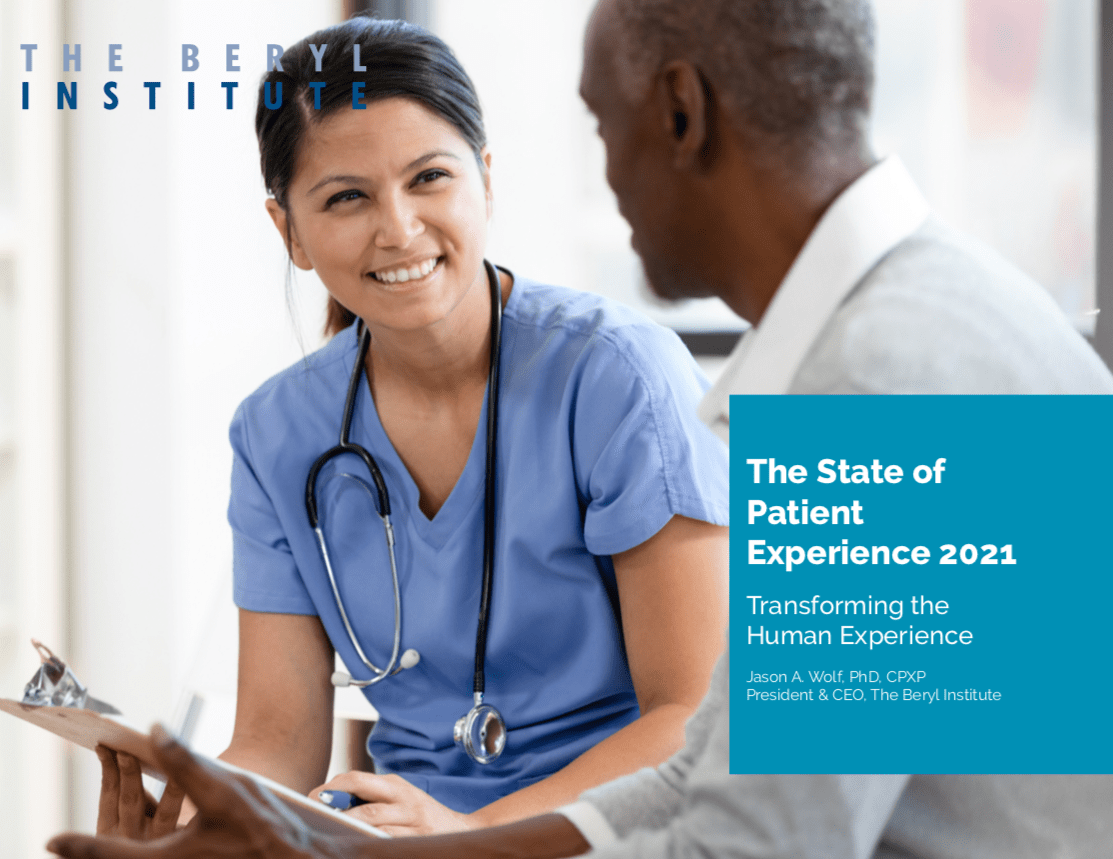 For healthcare organizations, experience remains a top priority. And it's not just the patient experience.
According to the Beryl Institute, which just released its 10th annual "State of the Patient Experience" report and sixth annual survey of healthcare professionals and consumers, it's the human experience that's now a top priority.
Makes sense, doesn't it? Because patients aren't the only ones in hospitals and clinics.
Top Priorities
The report's author, Beryl Institute President Jason Wolf, writes that "...top priorities lead with a focus on patient experience, a commitment to the healthcare workforce with a focus on employee experience, but also staff/nurse recruitment and retention showing up as a top priority."
The Covid-19 pandemic has made it clear how critical it is to take care of the caregivers.
Other new priorities this year are the extension of service via telemedicine and a commitment to addressing health disparities and inequity.
Ask Different Questions
The design of the physical environment has an impact on all these priorities. And yet, as I've said before in this blog, the Beryl Institute pretty much ignores it.
Maybe Beryl thinks the design of the physical environment isn't important to the consumers it surveys. If they asked different questions, though, they might get different answers and insights.
Because if you're only asking them about how important it is to have an environment that is clean and comfortable, you're not getting the whole story.
The U.S. Centers for Medicare and Medicaid Services (CMS) can do better, too. As I wrote in 2019, CMS needs to add more (and better) questions about the physical environment to its HCAHPS survey.
Part of the Culture
Perhaps the design of the physical environment is implied in Beryl's definition of the patient experience, which is "The sum of all interactions, shaped by an organization's culture, that influence patient perceptions across the continuum of care."
Organizational culture includes how the physical environment looks and feels. It communicates the values, expectations, and practices that guide and inform the actions of all those in the organization.
For example, if healthcare organizations are committed to creating a healthy building by adopting the 10 concepts of the WELL Building Standard, then they are showing their patients and staff that they care about their health and well-being, as well as the health and well-being of the people in their community. Patients will perceive them differently.
Health Impact of Climate Change
Healthcare organizations that also commit to reducing their carbon footprint by designing sustainable buildings and interiors can also impact the social determinants of health, many of which lead to health disparities and inequity.
But that's a harder concept to wrap your head around.
What Can You Do?
Basically, it's simple. No matter what you do, start by understanding what matters to those you work with or serve (the old empathy thing).
Then educate and enlighten them about how the design of the physical environment impacts what matters to them. Use the tools and resources available to you from organizations like HCWH, Practice Green Health, The Center for Health Design, International WELL Building Institute, Fitwel, U.S. Green Buildings Council, and others.
P.S. Please do me a favor -- if you liked this post and like this blog, please share it with others by sending them the link or posting it on your Twitter, LinkedIn, or Facebook. Also, don't forget to subscribe, so you'll get emails when new content is posted. Thanks!