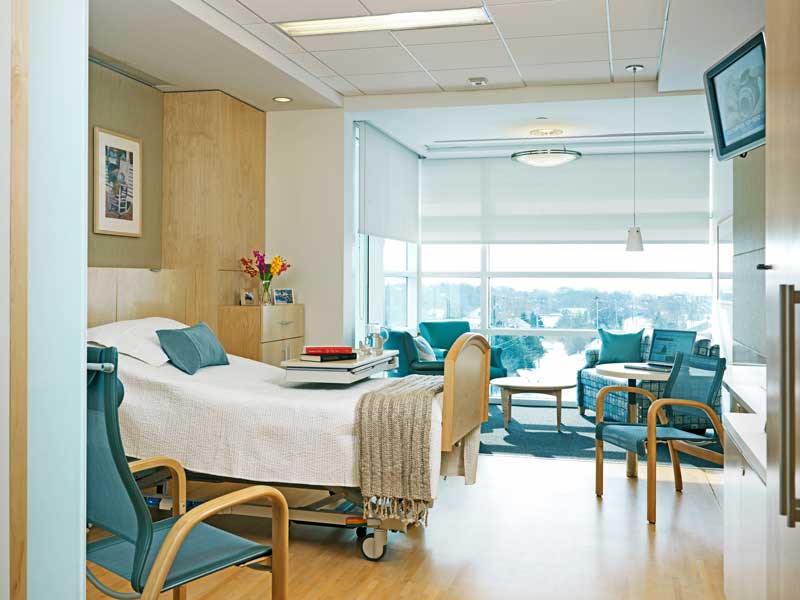 A few years ago, I wrote a post about 10 innovative healthcare design ideas that have helped improve the patient experience.
It's one of my most-read posts.
Last week I wrote about tunable lighting systems, which have the potential to improve circadian wellness for patients and staff in healthcare settings.
Then I got to thinking. What other innovative product ideas have there been that contribute to a more comfortable, safe, and supportive patient experience?
A Little Help From My Friends
To help come up with my top 10, I reached out to interior designers Tama Duffy Day at Gensler, Barbara Huelat at Healing Design, and Jocelyn Stroupe at CannonDesign. I also asked Eileen McMorrow of The McMorrow Reports, who has coordinated the Nightingale product design awards and Best of Neocon product design awards for a bunch of years.
And since I don't remember who came up with all of these innovative ideas first, I decided not to name specific companies, but instead focus on the idea and why it is significant.
Here's my top 10 innovative product ideas, in no particular order:
Patient chairs with dynamic motion that encourage mobility, helping patients to heal
Patient room sofas/chairs that turn into sleepers so family members can stay overnight with their loved ones, reducing patient stress
Height-adjustable, multi-position recliners that allow closer interaction at the bedside between the caretaker/visitor and the patient in the bed, enhancing communication and reducing patient stress
Bariatric furniture (chairs, tables, beds) that support obese patients and promote patient safety
Anti-microbial treatment for carpet and fabrics to help prevent infections and increase patient safety
Solid surface material for sinks, countertops, or furniture that is seamless and easily cleanable to help prevent infections and increase patient safety
Adjustable view windows that allow for privacy in patient rooms as well as clinical observation from the corridor to improve patient safety
Headwalls that conceal gases and medical equipment for patient rooms to make it feel less institutional and ease patient stress
Nature and music programming for patient television that provides positive distraction and masks unwanted noise to reduce patient stress
Virtual skylights and windows for treatment rooms that provide positive distraction to relieve patient stress
There are so many more innovative product ideas that are probably worthy of this list. What are some of your all-time favorites?
Photo: Cape Cod Hospital, courtesy of KI.
P.S. Please do me a favor -- if you liked this post and like this blog, please share it with others by sending them the link or posting it on your Twitter, LinkedIn, or Facebook. Also, don't forget to subscribe, so you'll get emails when new content is posted. Thanks!