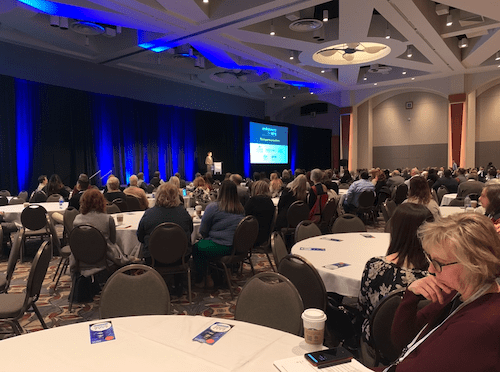 Earlier this week, I was at the 2022 Environments for Aging (EFA) Conference + Expo in Milwaukee, Wis. The last EFA I'd been to was Salt Lake City, Ut. in 2019, which was a great conference.
The pandemic forced EFA to go virtual in 2020 and the 2021 EFA was moved from April to August. As you can imagine, attendance was down at those events, but despite being held only seven months after the last one, EFA 2022 seemed to be well attended.
Compared to other healthcare design conferences, EFA is small. I'm not exactly sure of the numbers, but I'm guessing 400-500 attendees, plus exhibitors.
Small is Good
Being small, however, is one of the reasons EFA is such a good conference. It's a welcoming community of talented, resilient people who are passionate about creating places that improve the lives of seniors.
My purpose at EFA was to reconnect with people I hadn't seen in a while and learn new stuff. Isn't that why we all go to conferences?
Every session I attended was terrific and the Expo Hall was (literally) overflowing with product solutions and people who were really glad to be there. I had many good conversations with attendees and exhibitors.
So what did I learn? Here's a recap of the seven keynotes/educational sessions I sat in on:
1. Same-Different
Opening Keynote speaker industrial designer Ayse Birsel told us that "to find out what older people want, think about what you want." She also asked each of us to draw a picture of our hero and list what we like about them -- then prompted several audience members to share. "What you see in your hero are your own values," she explained.
Ayse's latest book, "Design the Long Life You Love," will be out at the end of the year.
2. Wellness Focused Design Responses
Amy Schoenemann from Capri Communities and Daniel Fischer and Eric Harrmann from AG Architecture presented their "Casetta" concept for small houses, designed to promote independence and socialization. I was particularly interested in their wellness focused design responses to Covid-19, including: bi-polar ionization air purification systems, parcel rooms for packages, family meeting zones, and covered heated outdoor spaces.
3. Personalized Soundscapes
Through a case study that involved research, Addie Abushousheh from The Center for Health Design, Jeff McSpadden from Composure, and Steve Lindsey from Garden Spot Communities shared how sonic environments can improve outcomes for memory care residents. In case you don't know what a sonic environment is, it's a digital platform that provides personalized soundscapes designed for rest, relaxation, and resilience.
When I asked Steve later why he, as the CEO of Garden Spot, thought it was important to fund research to measure outcomes of sonic environments, he said, "Because it is the right thing to do."
4. Not Just Gardens and Plants
I love biophilic design, which is why I chose to attend a session about what it is and how it can be used in senior living. Jay Weingarten and Lara Slavkin of RDG Planning & Design and Catie Ryan Balagtas of Terrapin Bright Green laid it out beautifully with nice project examples.
To be sure, gardens and plants are a part of biophilic design. But it is so much more, including design to make a visual connection with nature, produce sensory stimuli, experience water, simulate light as it appears in nature, and about seven other things.
Want to know more? Check out the free publications about biophilic design on Terrapin Bright Green's website.
5. Researcher and Advocate
We heard about the amazing work of 2022 Changemaker Award Recipient Maggie Calkins in Monday's keynote, who I first met at one of the early Symposia on Healthcare Design in the 1990s. Maggie told us that after getting a degree in architecture, she never wanted to be a designer; she just wanted to do research.
And a lot of research she has done -- much of it about environments for those with dementia.
Her latest project is studying wayfinding in retirement communities. Maggie has also been instrumental in changing many of the regulations in order to create better environments for seniors.
Her parting thought? "Keep putting pressure on the regulators."
6. Sensory Well-Being Hub
Because a session I'd signed up for was cancelled, I found myself in a fascinating session on a sensory well-being hub prototype created by HKS and installed at a public school for adolescents with Autism Spectrum Disorder. Lisa Adams and Upali Nanda from HKS detailed their research that documented the use of various features in the hub, including a beanbag chair with a weighted blanket, write board, and a cocoon.
I found myself thinking, "This is great, but how does it relate to seniors?" Apparently Upali read my mind and said that adults with ASD are more likely to get dementia, so the sensory hub model could be adapted for memory care facilities.
Instead of a beanbag chair, there could be a glider. No write board, but maybe a Buddha Board. Fidget walls. Lighting that responds to circadian rhythms. Some sort of virtual engagement inside the cocoon.
Currently, though, there is no evidence that sensory rooms are effective for those with dementia. But so what? We know this stuff works.
Session attendees cautioned that there's currently different terminology being used for these types of rooms, including "quiet rooms," or "snooze rooms." Others asked if these experiences could be brought to individual resident rooms. I wondered about incorporating these sensory features into the entire environment, not just one room.
Check out the open source guide to building a sensory well-being hub and sensory cocoon on the HKS website.
7. Senior Housing Makeover
The last session I attended was about a low-income housing renovation and new construction project in Naperville, Ill. Heidi Wang of WJW Architects and Linda Brace of Evergreen Real Estate Group gave a thorough summary of how this project came about and the challenges they faced.
Linda kind of lost me when she started talking about the financing, which included Low Income Housing Tax Credits (LIHTC), bank financing HOME funds from the county, and CDBG grans from the city. If it wasn't so complicated, I wonder if there'd be more projects like this?
Heidi's before and after photos were terrific and the design solutions her team came up with really transformed this 1970s era apartment complex into a modern, vibrant community for low-income seniors.
Kudos to the Conference Team
Thank you to Emerald Expositions, The Center for Health Design, SAGE, and all the other partner associations and sponsors for putting on such a good conference.
The next Environments for Aging Conference + Expo is April 15-18, 2023 in Charlotte, N.C. If you're interested in presenting your latest and greatest ideas and/or projects, the Call for Presentations is now open until June 17.
Also, if you were at EFA and want to share some of your take-aways, please write in the comment box below or send me an email. I always love to hear from you!
P.S. Please do me a favor -- if you liked this post and like this blog, please share it with others by sending them the link or posting it on your Twitter, LinkedIn, or Facebook. Also, don't forget to subscribe, so you'll get emails when new content is posted. Thanks!