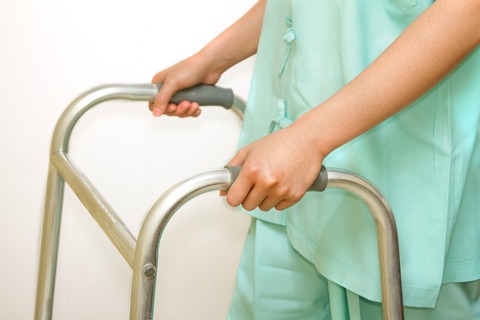 A couple of years ago I lamented the fact that CMS's Partnership for Patients initiative to tackle patient safety really wasn't focusing on the design of the physical environment.
It still isn't.
But, there's been a lot written recently about designing for patient safety. Health Facilities Management magazine devoted its entire December 2015 issue to it. I was happy to see that one of the articles in that issue was recently published in its sister publication, Hospitals & Health Networks, which is read by thousands of healthcare executives in the U.S.
Titled, "Four Basics for Creating a Safer Health Care Facility," here's a summary of it's advice:
Focus on infection control by using new technology and antimicrobial materials.
Avoid patient falls with non-slip, non-shiny flooring, handrails, electronic patient lifts and bed exit alarms.
Design for safety with a better functional design that's based the operational plan, decentralized nurse stations, and paying attention to the placement, layout, and lighting of medication rooms.
Stay educated by keeping up with the latest laws and regulations for designing facilities for patient and staff safety.
All of these things actually fall under the umbrella of designing for patient safety. After all, anything that's intentional is designed, right?
One strategy the reporter missed, though, which impacts #2 and #3 above, though, is reducing noise. No mention of it. Yet it's been well-documented in the literature that unwanted or excessive noise in healthcare facilities causes stress for both patients and staff.
For patients, stress can cause agitation and confusion, increasing the risk of falls. For staff, stress can make it harder to focus on the task at hand, resulting in costly — and often harmful — medical errors.
More About Reducing Falls
Here's something interesting. Recent research on patient falls by Debajyoti Pati and colleagues at Texas Tech University found that "designing for the appropriate postures and motions" are the most important physical design considerations to reduce falls in healthcare facilities. Things like turning, grabbing, pulling, and pushing.
Pati outlined their methods and findings in a recent article, "New View on Patient Falls," in Healthcare Design (some of you may have also heard him speak about it at the Healthcare Design conference last November). In it, Pati lists 13 "testable" strategies for designing for the appropriate postures and motions in healthcare facilities.
Most of them are focused on the patient room, which makes sense because that's where patients spend most of their time and are more likely to fall. Many of these strategies should also be used in resident rooms and apartments in senior living communities.
Other Recommendations
The latest edition of the FGI Guidelines for Design and Construction of Hospitals and Outpatient Facilities include new requirements for safety, including a safety risk assessment and ways to evaluate medication safety risks and identify and design medication safety zones. A Safety Risk Assessment Toolkit and other resources are available from The Center for Health Design.
P.S.  Please do me a favor -- if you liked this post and like this blog, please share it with others by sending them the link and/or post it on your Twitter, LinkedIn, or Facebook, etc.  Also, don't forget to subscribe, so you'll get emails when new content is posted.  Thanks!