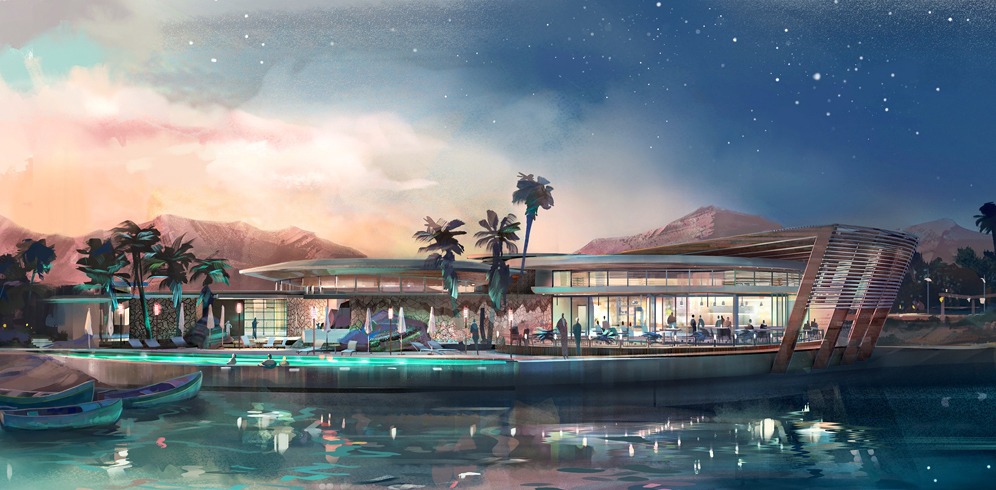 The big news this week is that Disney has entered the senior living market.
You may have heard that the company is launching Storyliving by Disney. According to the company's news release, these master-planned communities are intended to inspire residents to foster new friendships, pursue their interests, and write the next exciting chapter in their lives—all while enjoying the attention to detail, unique amenities and special touches that are Disney hallmarks.
Each community will include some neighborhoods for 55+ residents. The first one, called Cotino, will be located in Rancho Mirage in California's Coachella Valley -- a place where Walt Disney himself once owned a home.
Move Over, Margaritaville
Home buyers will have a range of home types to choose from, including estates, single family homes and condominiums. Voluntary club membership will offer access to a waterfront clubhouse, a club-only beach area, and recreational water activities, as well as Disney programming, entertainment, and activities throughout the year.
Sounds a little like Latitude Margaritaville, right? Only with the Disney magic.
Working in conjunction with developers and homebuilders, Disney Imagineers are going to play a key role in developing the creative concept for the communities. And if you've ever been to a Disney theme park and stayed in a Disney hotel, you how good they've imagineered those experiences.
Hopefully they'll work with some good architects and designers, too. And that they'll use universal design concepts in every building.
Forever Young
What's not to like about this as a model for senior living?
It's a great fit with the Disney brand. It addresses the desires of active Boomers who want to be connected to a community. It's in Southern California.
"As someone in his 60s, this looks interesting," wrote David Overbuy, Consulting Professor for Saylor Academy, on a comment threat on LinkedIn this past week. "But as someone who still has a living parent and in-law both nearing 90, I hope they think through the whole continuum. What happens to all of us 'active' senior Baby Boomers when we need assisted living, memory care, skilled nursing, or hospice care?"
Indeed.
It's not like those who move into a Storyliving by Disney community will remain forever young like Mickey and Minnie Mouse, who turned 93 last year. Will seniors in Cotino be able to age in place?
Authentic Community Engagement
Another comment on LinkedIn by Nancy Griffin, Founder of SeniorTrade: "It will be interesting to see if The Walt Disney Company can create authentic community engagement when they are so used to putting on a show."
She also has a good point.
Many existing senior living communities are struggling with how to go beyond programmed entertainment or activities to create authentic community engagement.
To attract younger seniors, owners and operators need to create a lifestyle product that focuses on health and wellness, fosters human connection, and creates a sense of purpose and belonging. Can the Disney magic provide that without seeming fake?
Playground for Rich Seniors
And what about the cost? Pricing has not yet been released, but I bet it won't come cheap.
"Truth be told, this is a playground for rich seniors with a Disney wrapper," wrote Matt Thornhill, Founder of Cozy Home Community and Openly Gray on LinkedIn. "Nothing wrong with that, and it will be hugely successful. But desperately needed across the country are more affordable senior living options for regular folks."
"Anyone who experiences Disney in Orlando pays a hefty price for those memories, he added. "Only a precious few can afford to live that way every day."
That's true, too. Storyliving by Disney won't be for everyone. In more ways than just the cost.
I wonder if the same creative concepts Disney dreams up for this luxury property could also be used in properties for low- to middle-income seniors.
Segregating Seniors
And why separate seniors in their own neighborhoods? Do they really want to be segregated from others?
Creating multi-generational neighborhoods for people of all ages and abilities seems like a better idea. Experts like Dr. Bill Thomas predict that in the next 5-10 years, the senior living industry will gradually shift away from an age segregation and segregation by ability model to a new phase of creating multi-ability, multi-generational communities that are exceptional for elders and people of all ages.
After all, Disney parks aren't just for kids.
Why not create a residential community where everyone has the same experience? It looks like the recreational activities, shopping, and dining in Storyliving communities will be for everyone (if you can afford them, that is), so why put people 55+in their own neighborhood?
Not a First for Disney
Also, this is not the first master-planned residential community that Disney has done. Remember Celebration, the charming "American home town" the company built in Central Florida in the 1990s? It didn't turn out so good.
But it doesn't matter.  This is a totally different concept. And one that the senior living industry should keep an eye on and learn from.
I've raised a lot of questions in this post. What do you think? Send me an email or post your comments in the comment box below.
P.S. Please do me a favor -- if you liked this post and like this blog, please share it with others by sending them the link or posting it on your Twitter, LinkedIn, or Facebook. Also, don't forget to subscribe, so you'll get emails when new content is posted. Thanks!
Rendering: The Walt Disney Company