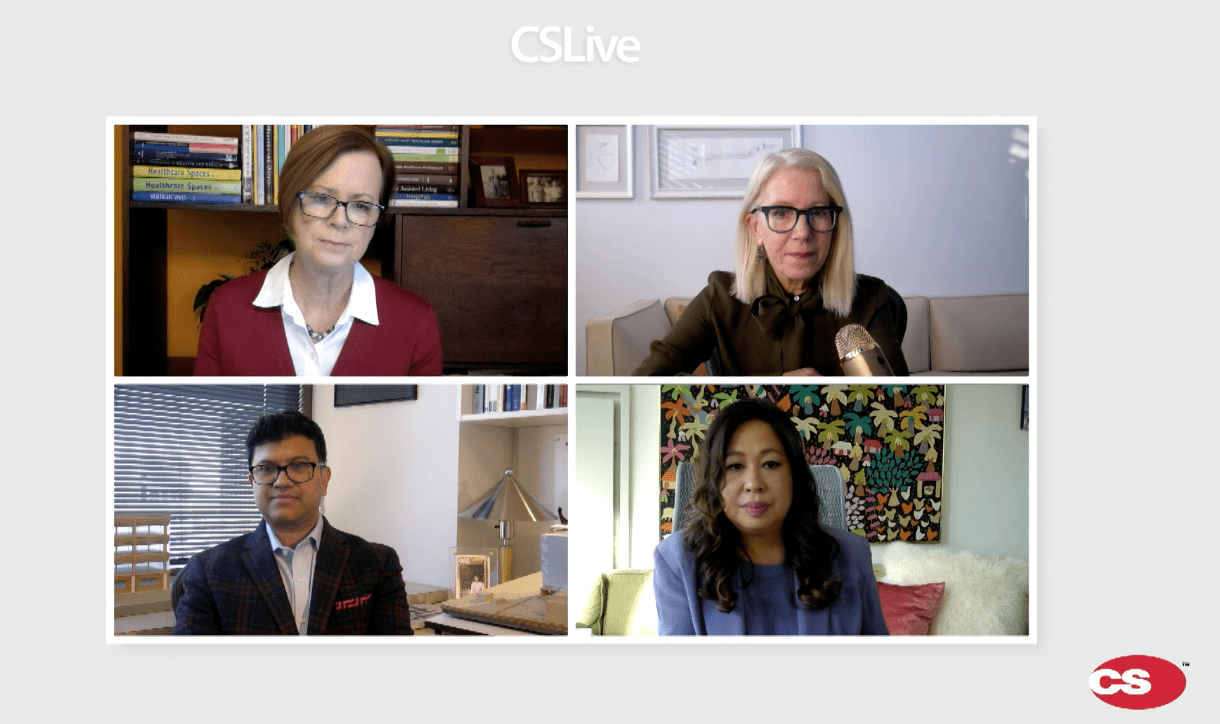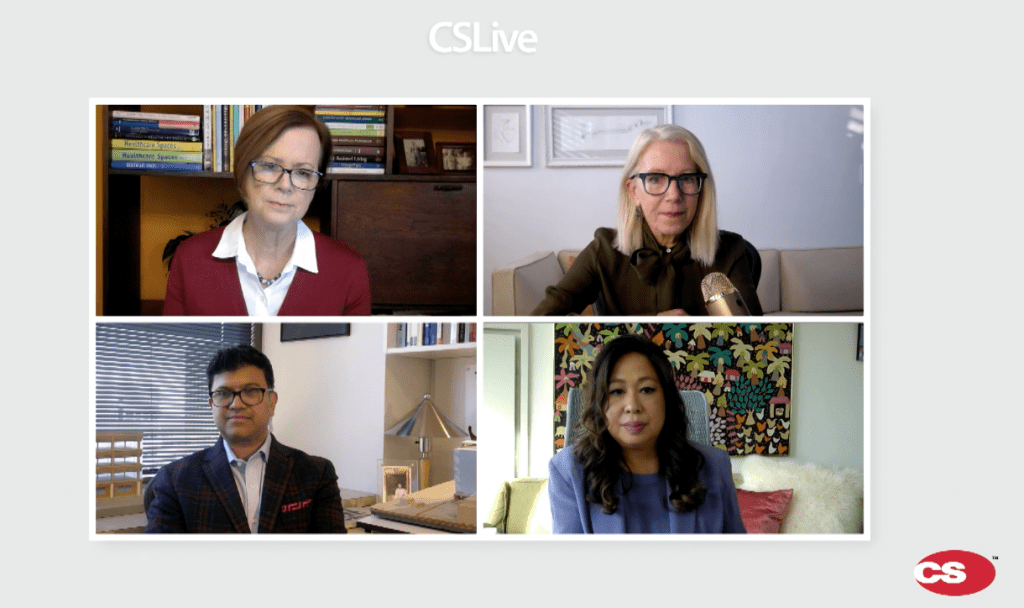 This week, I was fortunate to moderate a live roundtable discussion hosted by Construction Specialities with three of my healthcare design friends: Tama Duffy Day of Gensler, Tushar Gupta of EYP Architecture and Engineering, and Victoria Navarro of Advocate Aurora Health.
They had so much to say about healthcare design strategies for our current reality that we barely got through all my questions. Here are some of the highlights of our conversation.
New Normal
A lot of people talk about the "new normal." But I don't think anything about where we are right now is normal.
So I asked them about what they wanted to call it.
Tama likes the World Health Organization's label of "new future" because it speaks of hope. "I've been able to see this as a time to restore health and strengthen collaboration across industries," she said.
Tushar feels that the new normal is redefining resiliency because we're in such a transient state."We're redefining how we live, work, and play," he said.
Victoria thinks that the new normal doesn't allow us to deal with the totality of our present reality. "It's caused us to feel discomfort, de-stabilized," she said. "It's important to use this discomfort to create a new paradigm that will help us empathize with those who have been ignored by society."
Essential Design Strategies
Covid-19 has put a lot of stress on our healthcare system, testing its flexibility and capacity. My next question was about what design strategies are essential to adapt to our current reality and plan for future pandemics.
Victoria emphasized scenario planning and focusing on modular construction solutions that will allow healthcare providers to flex during surges. "The theme for us is to work smarter, not harder, and to do more with less," she said.
Tama responded that the pandemic has raised issues of fear, inequality, and trauma and referenced some recent Gensler research on the emotional needs of patients. "Designing human interactions is at the core of regaining patient trust," she said.
Tushar agreed that we need to do more with less, saying that we need to find a balance between capacity, preparedness, and rapid response. "It's not a new idea, but are we going to go to a universal or acuity adaptable room?" he asked. "The answer is yes if you can afford it.
Telehealth
The surge in telehealth as a result of the pandemic has created some interesting challenges for patient care. I wanted to know what specific design strategies can be used to achieve the most effective virtual connections between clinicians and patients.
Tama spoke about three trends her firm is seeing: 1) equipping every exam room with telehealth capabilities, 2) adapting more rooms (other than exam rooms) to support telehealth, and 3) reinventing the physical space to develop a module of rooms with this technology that can flex in quantity and location. "To get it right, we need to enable a healthy, happy, human experience," she said. "The built environment is a large aspect of that."
Tushar has been thinking a lot about the human connection and feels that it comes down to communicating empathy, which might involve visual clarity and good acoustics. "There's good guidance in the 2018 FGI Guidelines on this," he said.
Victoria believes that telehealth and other types of communication technology is an ever evolving opportunity for the healthcare industry.
For example, Advocate Aurora Health is using 24/7 remote monitoring for ICU patients and also providing iPads and a Zoom app for family members to stay connected to patients. "There's a lot more work to be done," she said. "We need to look at partnerships to drive innovative solutions."
Caring for the Caregivers
Without a doubt, the pandemic has made us realize how important frontline healthcare workers are. I was curious to know what they think healthcare providers are (or should be) doing to care for the caregivers.
Tushar thinks that taking better care of the caregivers is an extremely important concept for providers to embrace, mentioning things like creating hydration stations and zen spaces. "This starts at the beginning with making a commitment to have design equity between spaces for patients and families and spaces for caregivers."
Victoria agreed, saying those are things her system is embracing. "Respite care is critical for helping to restore our caregivers," she said.
Tama reiterated that connecting both patients and staff to nature is a powerful design strategy for promoting health and wellness.
New Products
Challenging times usually spark creativity. I wanted to know if there are any other product innovations to help improve infection control in healthcare environments that are needed.
But we kind of ran out of time to fully address this question.
Victoria talked about using UV light for small device cleaning and touchless technology, which she believes is going to continue to advance.
Tama thinks there's a need for more products that can be used in our homes, which she believes is the future of healthcare.
Tushar likes the shielded UVC technology that can address cleaning the air at the source. "What can we do to build that technology in the room?" he asked.
That's a Wrap
Those are the highlights from our discussion. If you want to watch the entire 62-minute show, tune into CS Live. It's free.
P.S. Please do me a favor -- if you liked this post and like this blog, please share it with others by sending them the link or posting it on your Twitter, LinkedIn, or Facebook. Also, don't forget to subscribe, so you'll get emails when new content is posted. Thanks!