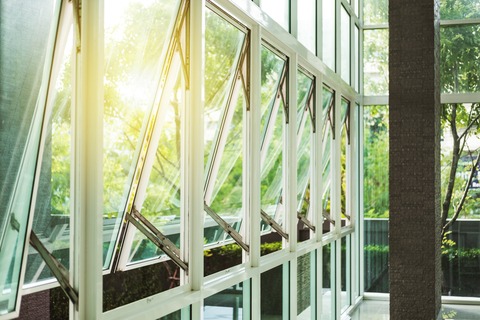 Last week, I participated in a discussion for Product Focus Friday about the impact of the pandemic on healthcare facility design.
Produced by the McMorrow Reports on Parade, the show was sponsored by Kwalu and Sandler, who also presented some brief information on their cool new products.
You can view/listen to the entire program here, but here is a summary of some (and some topics we didn't get to) of what Eileen McMorrow and I spoke about in our 20-minute chat.
Indoor Air Quality
The Atlantic article on the history of ventilation and opening windows to fight germs that I posted on LinkedIn got more than 2,000 views. But the pandemic has made it clear that the indoor air quality of our buildings is critical to our health and well being.
Even in the 1860s, Florence Nightingale knew that access to fresh air could help prevent the spread of germs among hospitalized patients. And although modern hospitals have had very sophisticated air handling systems for years, very few of them have operable windows.
So we need to look at those that do, like Spaulding Rehabilitation Hospital in Boston, to see what is possible. Or to Foster+Partners' design for the Shanghai Luye Lilan Hospital in China.
Also, lots of germs are tracked into buildings on the floor, which can then become airborne as more people walk on them and stir things up. So it's important to think about having walk-off areas and flooring materials that trap microbes.
Healthy Buildings
We've been talking about healthy buildings in healthcare for the past 30 years (even farther back if you count Florence Nightingale). But it took a pandemic for the whole world to realize how important it is.
And if you think about it, the physical environment is the first thing people encounter when they enter a building. It has an immediate impact on their health and well-being, which is why healthcare buildings are really front-line caregivers.
The International WELL Building Institute identifies 10 concepts that are essential for a building to be healthy: air, water, nourishment, light, movement, thermal comfort, sound, materials, mind, and community.
If you haven't checked out the WELL Building Standard yet, you should.
Better Stewards of the Environment
Also, we can't have healthy people on a sick planet. Every building owner needs to be a better steward of the environment.
That means thinking differently about construction strategies, heating and cooling systems, water management systems, integration of nature, and materials selection.
I was surprised to learn recently that the carbon footprint of interiors may be responsible for emissions at least equal to or more than those from the building structure and envelope. It's mostly because of multiple renovations over the lifecycle of the building.
Rethinking Administrative Space
At the height of the pandemic when many hospitals wanted room for more treatment beds, the realization dawned that too much space in the hospital was dedicated to administration and those functions could be moved off-site from clinical care.
John Balzer, Vice President, Facility Planning and Development at Froedert Health in Wauwatosa, Wis., recently told me about a brand new administrative building they built before the pandemic that now stands empty. He thinks that people will continue to work from home and that building will never be fully utilized again.
The challenge is, what to do with it?
Besides making them flexible to morph into clinical treatment areas if needed, I haven't seen many other solutions for retrofitting administrative spaces in hospitals.
We may also see more "hoteling" and shared spaces that are common in the corporate world in hospital administrative buildings. This is already happening in some ambulatory care facilities and clinics.
More Critical Use of Space
Why did it take a pandemic for hospitals to realize that patient-care and labs were the more critical use of space? It seems like dedicating as much space to treatment/healing and wellness would have been the recommendation of many designers before the pandemic.
But programming is complicated. When the typical plan/design/build cycle is 10 years, it's hard to predict exactly how the space will be utilized in the future.
And other things happen, too.
Not long ago, architect Shelia Cahnman of Jump Garden Consulting told me the story of an award-winning hospital in St. Paul, Minn. that she helped design, which opened in 2008 only to close 12 years later -- the victim of a system merger.
Plans are to repurpose the hospital building as a health and wellness center, concentrating on mental health once the pandemic is over. But Shelia isn't sure how that will be possible.
Lessons Learned
There are many lessons about the designed and built environment that can be learned from the COVID-19 lockdowns. Here are some of them.
1. The built environment can help prevent the spread of infection, but most buildings aren't designed to do so, particularly when it comes to physical distancing.
Every building owner needs to rethink their reception and waiting areas -- size, furniture placement/configuration, and visual cues.  We can do better than plexiglass. Or stickers on the floor.
There are lots of creative opportunities to design furniture with dividers. How about chairs with individual air purification systems?
2. Having access to outdoor spaces and clean and/or fresh air is a necessity.
Providing access to the outdoors has been a trend in healthcare for awhile now and many hospitals already have outdoor dining spaces, activity areas, terraces, and gardens.
The challenge is how to utilize them in colder climates. One Focus Friday participant asked if a courtyard could be converted to a waiting or clinical treatment area. I don't see why not.
3. In healthcare, it's not just about the patients.
The pandemic has been emotionally and physically hard on front-line caregivers. That's why it's so important to provide places of respite, access to nature and natural light, and other positive distractions.
Specifying Healthcare Products
Discussions about infection-control and surface decontamination seem to be running high, yet surfaces are not the key conduit for the virus that causes Covid-19. What should you do when exploring products for healthcare applications?
1. Ask product manufacturers' reps questions and do your research.
For example, there's research that shows soft surface flooring materials, like carpet and carpet tile, are less likely to spread airborne germs than hard surface flooring, like VCT.
2. Question accepted design norms.
Disinfection and cleanability of materials is important in healthcare, but we may be over-sanitizing our spaces and erring on the side of caution. As I wrote about last month, not all microbes are bad.
3. Challenge product manufacturers to do better.
Let them know what matters to you and if there are features you want that they are not offering. Because if you don't tell them (or they don't ask), things will just stay the same.
And nothing is the same anymore.
P.S. Please do me a favor -- if you liked this post and like this blog, please share it with others by sending them the link or posting it on your Twitter, LinkedIn, or Facebook. Also, don't forget to subscribe, so you'll get emails when new content is posted. Thanks!
Photo 96850983 © Sasinparaksa - Dreamstime.com