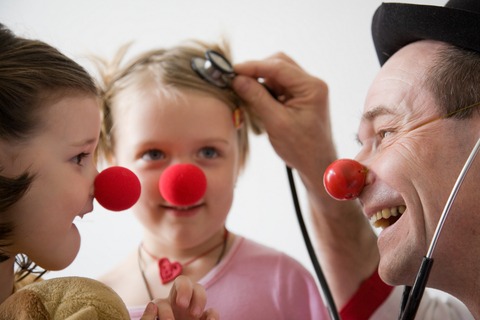 The frenzy leading up to the U.S. midterm elections these past few weeks has been nuts, causing lots of anxiety for many people.
And those of us who are preparing to attend, speak, or exhibit at the Healthcare Design Expo & Conference, which starts today in Phoenix, Ariz., are also stressing over last minute preparations.
You might as well laugh rather than cry.  It'll make you feel better.
Here's a healthcare design joke that I've shared before. It still cracks me up:
Doctors were asked to contribute to the planning and design of a new bed tower.  What was their reaction?
The allergists voted to scratch it.
The dermatologists preferred no rash moves.
The gastroenterologists had a gut feeling about it.
The neurologists thought the administration had a lot of nerve.
The obstetricians stated they were laboring under a misconception.
The ophthalmologists considered the idea short-sighted.
The orthopedists issued a joint resolution.
The pathologists yelled, "over my dead body!"
The pediatricians said, "grow up."
The proctologists said, "we are in arrears."
The psychiatrists thought it was madness.
The surgeons decided to wash their hands of the whole thing.
The radiologists could see right through it.
The internists thought it was a hard pill to swallow.
The plastic surgeons said, "this puts a whole new face on the matter".
The podiatrists thought it was a big step forward.
The urologists felt the scheme wouldn't hold water.
The emergency physicians thought the whole thing needed resuscitation.                               The cardiologists didn't have the heart to say no.
Also, if you're still deciding on which educational sessions to attend at the conference, check out my recommendations.
P.S. Please do me a favor -- if you liked this post and like this blog, please share it with others by sending them the link or posting it on your Twitter, LinkedIn, or Facebook. Also, don't forget to subscribe, so you'll get emails when new content is posted. Thanks!