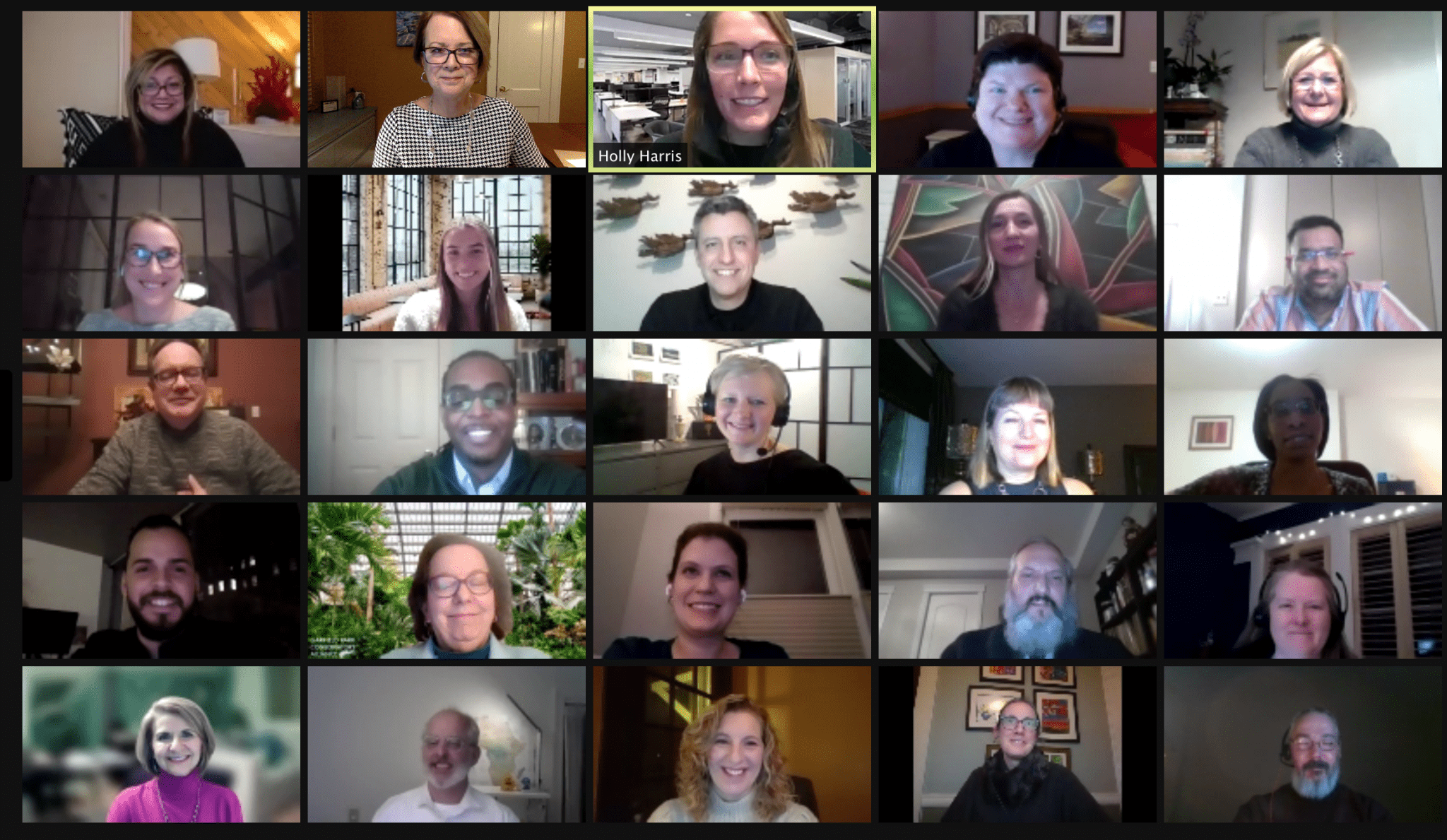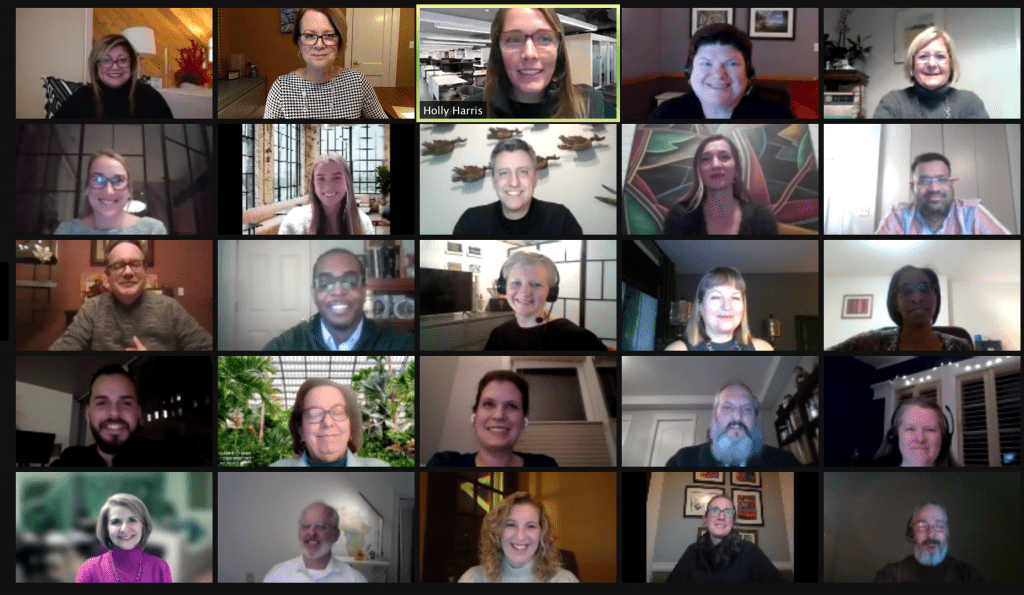 What are you going to do this year to make a bigger impact, advance your career, and connect with others?
Maybe you're looking for a reset. Or want to inject some Ted Lasso positivity into your professional life.  I have some ideas.
Here's my top 10 for 21, which I shared last night at the AIA Chicago Healthcare Knowledge Community's Zoom New Year Party sponsored by Interwoven.
#10 Learn a New Skill
Learning something new not only benefits your health, but it also helps you easily adapt to change, and advance your career.
One idea is to learn how to practice mindfulness. Regular practice of mindfulness in the workplace has the potential to revitalize your purpose, improve your achievement, and develop positive relationships.
Another idea is to improve your storytelling skills. Great storytelling can help you win clients and engage with others in meaningful ways.
#9 Judge a Design Competition
This is a great way to connect with colleagues and stimulate your thinking about healthcare planning and design. However, being asked to judge one of the national healthcare design awards programs is complicated.
#8 Write a Blog Post
Writing is a great way to express yourself creatively, share ideas, and build your credibility. And there are many blogging opportunities within your reach.
Your company may have a blog. Or you can offer to write a guest post for someone else's blog. There are 500 million of them out there!
If you're an independent consultant or designer, it isn't that hard to start your own blog, either. Or there are writing platforms like Medium or The Conversation.
#7 Speak at a Conference
Speaking is also a great way to build your credibility, interact with colleagues, and give purpose and meaning to your work.
Tips for crafting a proposal that will "wow" the selection committee>>>
And if at first you don't succeed, try again. But don't ever submit the same presentation to different conferences at the same time.
#6 Return to Workplace With Playfulness
Now that there's a vaccine, we can start to imagine what a return to the workplace might look like.
But most of us generally resist change, or at least the uncertainty of change. When used as a framework for thinking about transition, playfulness can help ease our fears.
In the workplace, this can be done through use of words or visuals. Or, you can use sensory experiences, like music, art, or games.
#5 Volunteer Your Services
Lending your time and talents is also a good way to have an impact and connect with others. The good news is that you don't have to find a project to work on — there are organizations that match design professionals with nonprofits.
In Chicago, there's a group called Designs4Dignity that transforms nonprofit environments through pro-bono design services and in-kind donations.
1+ is the first and largest pro bono service network for architecture and design professionals. It has a national matching platform that connects nonprofits to architecture and design firms.
#4 Update Your LinkedIn Profile
Economic uncertainty and a fluctuating job market are two good reasons to do this now. But LinkedIn isn't just for job-seekers.
LinkedIn is a professional networking platform where people share all sorts of great information, ideas, and news about healthcare planning and design. It has more than 760 million users worldwide -- many of them healthcare design professionals and others related to the field.
At a minimum, your profile should have a good headshot, background header, and more than just your title under your name. It shouldn't read like a resume, but rather be written in friendly, conversational, first-person style.
#3 Mentor Someone
Mentoring is another way to make an impact and connect with others. Plus, there's a lot of fulfillment and satisfaction in mentoring.
Also, imparting wisdom and experience to others doesn't require a huge time commitment — and can be done virtually.
If you work for a firm that has a mentorship program that might be an easy way to do it. Or your local professional association chapters may have mentoring programs. And there's always your alma mater, too.
#2 Rediscover Your Inner Artist
Many of us turned to the arts to keep ourselves sane during the lockdown this past year. Creating artwork stimulates your brain and expands your capacity for creativity in other areas.
So, break out those paints, camera, or potting wheel and start creating again. And if you need a jump-start, many organizations are offering online courses.
#1 Become a WELL Accredited Professional
There are lots of professional accreditations that are worthy to pursue. But none are as timely and relevant as becoming a WELL Accredited Professional.
Because the Covid-19 pandemic has made the strong dependency of human health on the environment very real, healthy buildings is an idea whose time has finally come.
WELL Accredited Professionals have expertise in the WELL Building Standard and are uniquely positioned to lead a global effort to support the health and well-being of people everywhere.
A Couple of More Things
Some of the people at the party thought I should have included being inclusive and embracing diversity in my list. But while that's something we should all be doing, I think it's more of a collective paradigm shift than a personal reset.
Finally, if you decide to do something from this list, be disciplined about it and see it through. Because if you commit to it, clearly define your goals, and keep your eye on the prize, you'll succeed.
Thanks again to my friends at Interwoven for sponsoring the party!
P.S. Please do me a favor -- if you liked this post and like this blog, please share it with others by sending them the link or posting it on your Twitter, LinkedIn, or Facebook. Also, don't forget to subscribe, so you'll get emails when new content is posted. Thanks!