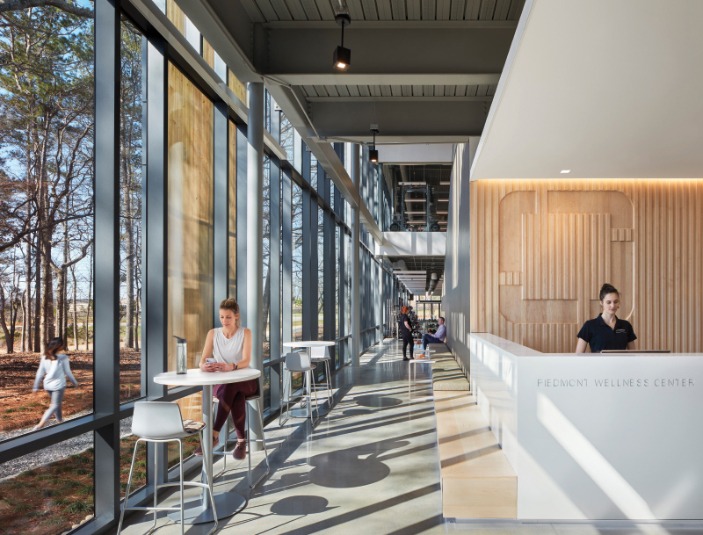 When Texas A&M Professor Leonard L. Berry asked me last February what topic I wanted to write about with him for an article in a special series titled "Shaping Tomorrow's Healthcare Systems: Key Stakeholders' Expectations and Experiences" in the Journal of Hospital Management and Health Policy (JHMHP), I didn't hesitate.
"Healthy buildings," I told him.
As you all know, the Covid-19 pandemic has brought into sharp focus the significant role our buildings and communities play in keeping us healthy and safe. In healthcare settings the stakes are much higher, as patients' health is often already compromised and their stress and anxiety levels are high.
What is a Healthy Building?
Nurses, physicians, and other clinicians also experience daily emotional and physical stress in healthcare settings. So the ways in which healthcare facilities are designed and operated, as well as the organizational polices that are put in place play a critical role in supporting the health and well-being of patients and staff.
But besides promoting the health and well-being of patients and staff, true healthy buildings also support the health and well-being of our planet. It's time that hospital and health system leaders understand that synergistic relationship.
Because, as sustainable design expert Robin Guenther once said, "We will not have healthy people on a sick planet."
What's In the Article
Len and I asked Robin to be a co-author with us and I took the lead in writing the manuscript under Len's expert guidance. Our article, "Advancing Human Health, Safety, and Well-Being with Healthy Buildings" has recently been published in JHMHP, an international, open access, peer-reviewed online journal read by hospital and health system leaders worldwide.
We present the case for healthy buildings. Using case studies and published research, we explore their potential impact on key stakeholder's experiences and expectations, including patient and staff health outcomes, staff satisfaction and productivity, and community engagement.
We also briefly outline the history of healthy buildings, whose origins come from Ancient Greece, Florence Nightingale, and the green and well building movements.
And we explain how evidence-based design fits into all this. It's the process that architects and designers use to make well-researched decisions about the built environment -- a key component in creating a healthy building.
Healthy Healthcare Buildings
In researching and writing this article, I realized that there are many hospitals and health systems that have adopted sustainable operating and design practices to reduce their impact on the planet. There are a handful of healthcare buildings that have achieved WELL Building certification, which focuses on occupant health. Some of the best examples are in our piece.
But there is no one entire healthcare building or campus that's been newly built with the specific intent to not harm people or the planet.
So who is going to be the first?
NYU Langone Health's Manhattan main campus may already claim that distinction, but I'm not sure they have achieved healthy buildings campus-wide yet. Nor do they call them that.
Time to Lead
It is our hope that this article will inspire leaders at hospitals and health systems to invest in creating healthy buildings and help the movement in healthcare gain traction. We even give them some ideas of where to start.
Or the article could also be used by facility and design professionals to help convince healthcare leaders to make the commitment to healthy buildings.
After 30+ years of writing/editing articles and books for healthcare and design professionals, this is my first peer-reviewed article to be published in a journal. I'm grateful to Len for the opportunity and really humbled to work with these two thought leaders.
P.S. Please do me a favor -- if you liked this post and like this blog, please share it with others by sending them the link or posting it on your Twitter, LinkedIn, or Facebook. Also, don't forget to subscribe, so you'll get emails when new content is posted. Thanks!
Photo: Piedmont Health Wellness Center, Perkins+Will.