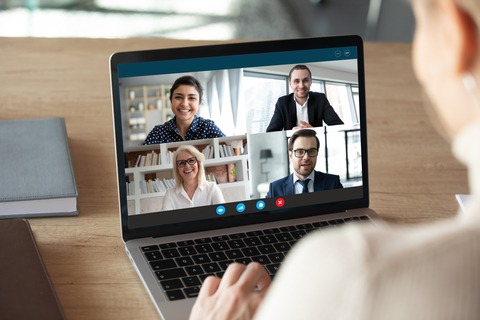 Two weeks ago, the organizers of Healthcare Design Expo + Conference announced that they would hold a virtual conference instead of an in-person event in November.
While I think this is the right decision, like you, I'm really missing seeing my business colleagues and friends in person. Especially the ones I only see once or twice a year at national conferences.
And I'm really tired of webinars where speakers simply run through their slides with no interaction with the audience or each other. Because it's the human interaction at conferences that gives us meaning and renewed purpose -- and hope for the future of the healthcare and design industry.
We all need more of that right now, don't we?
So how can you promote human interaction and community online?  Here's a few ideas for the HCD organizers -- or anyone else who is doing a virtual conference:
1. Use Polling and Chat Box Features
Encourage individual presentors to not just talk at the audience, but instead use features like polling or the chat box to get people to respond to what they are saying.
2. Encourage Interaction Among Panelists
Have a strong moderator for panel presentations who doesn't work from a list of prepared questions, but asks spontaneous questions of panelists and helps "connect the dots" from one panelist to another. And who can handle the chat box to field audience questions.
3. Take the Interactive Discussion Format Online
Engage discussion leaders who can offer ideas and ask probing questions of audience members. Use gallery view and limit the number so it's possible to really interact.
4. Organize Virtual Coffees
Have these hosted by healthcare design industry "personalities" where people just come to catch up with each other and chat about -- whatever.
Or take a page from comedian Jerry Seinfeld's playbook, and make them fun. Like "Coffee with Clinicians and Cats" or "Coffee with Designers and Dogs," where people join with their furry friends. Or how about "Coffee with Researchers in Recliners"?
Again, use gallery view and limit the number so it's possible to really interact.
5. Offer Musical Breaks
Relieve the monotony of online learning by feeding the spirit. These could even be performed by conference attendees themselves or someone who is related to the healthcare design industry.
I'm sure there are talented artists within our midst, like these Mayo Clinic surgeons who recently performed at the Fortune Brainstorm Health virtual conference. These don't even have to be live events, either.
6. Provide Virtual Yoga and/or Meditation Sessions
Again, feed the spirit with simple 30-minute sessions in the morning to start the day. There also might even be a yoga teacher within our midst who would volunteer their services.
7. Do an Interactive Product Design Competition
Get exhibitors engaged by submitting short videos on their products or services. Or, if that's too complicated, create an online gallery of photos.
Encourage attendees to watch/look at them and vote for their favorites to be entered to win a prize.
Stay Tuned
I'm sure the folks at Emerald and their partner organizations are already hard at work to make Virtual HCD the best experience it can be. But shouldn't they be asking attendees what they want?
Hopefully they are. Stay tuned.
P.S. Please do me a favor -- if you liked this post and like this blog, please share it with others by sending them the link or posting it on your Twitter, LinkedIn, or Facebook. Also, don't forget to subscribe, so you'll get emails when new content is posted. Thanks!
Photo 178126722 © Fizkes | Dreamstime.com