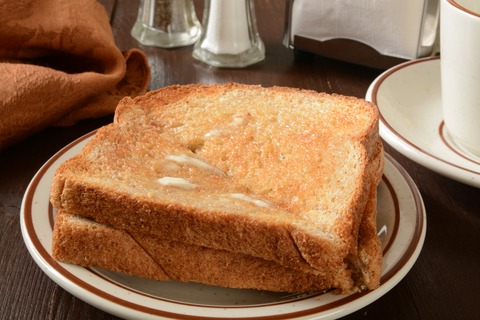 Did you hear what British Prime Minister Boris Johnson thinks will improve the patient experience at hospitals operated by the National Health Service (NHS)?
Hot buttered toast.
Well, who doesn't love hot buttered toast? (Except perhaps those allergic to dairy or wheat.)
If only it was that simple.
Much More Than Food Quality
And if that's the best thing they can come up with to improve the patient experience, maybe there's a thing or two the NHS can learn from U.S. healthcare providers. Now I know next to nothing about the NHS and the quality of healthcare in the U.K., but my guess is that they are struggling with many of the same issues as U.S. healthcare providers.
Apparently NHS hospitals get a lot of complaints about the quality of the food they serve to patients. Which is why the PM said what he said about hot buttered toast.
But years of listening to patients and gathering data about the patient experience tell us that it's much more than food quality.
Wrapper on the Wrapper
The Beryl Institute wrote that experience "is ultimately the wrapper encompassing the integration of quality, safety and service and more." In it's 2018 survey of healthcare consumers in five countries across four continents, the highest ranked patient experience components were:
Listen to you
Communicate clearly in a way you can understand
Treat you with courtesy and respect
Give you confidence in their abilities
Take your pain seriously
A healthcare environment that is clean and comfortable
A clear plan of care and why they are doing it
Ask questions and try to understand your needs and preferences
The ability to schedule an appointment or procedure within a reasonable time period
A discharge/check out process in which your treatment plan and/or next steps in care are clearly explained
As I've stated before, the design of the physical environment sets the stage for pretty much every one of these experiences. It is the wrapper around the patient experience wrapper.
(My issue with the Beryl Institute is that it often fails to acknowledge this. But I won't go into that now.)
Physical Components of the Patient Experience
And yes, Boris, just like the quality of the physical environment, the quality of the food is an important patient experience component -- one that is physical, too, along with things like access to/ease of parking, wayfinding, and amenities such as nature and music programming, art carts, WiFi, etc.
As we move more toward consumer healthcare in the U.S., patients will and are making choices based on many of these physical components.  That may not happen in the U.K., but according to Beryl, one of the reasons the patient experience has become more of a priority in countries outside of the U.S. is "increasing commitment to be positive stewards of public funds."
To be sure, these physical components do seem more like extras when compared to caregivers that listen to you, communicate clearly with you, and treat you with courtesy and respect.
But if we start thinking about the patient experience of healthcare as a human experience (as Beryl wants us to do), then we begin to expand our thinking about what makes up that experience.
It's really everything and everybody.
P.S. Please do me a favor -- if you liked this post and like this blog, please share it with others by sending them the link or posting it on your Twitter, LinkedIn, or Facebook. Also, don't forget to subscribe, so you'll get emails when new content is posted. Thanks!
Photo credit:  ID 54372333 © Msphotographic | Dreamstime.com