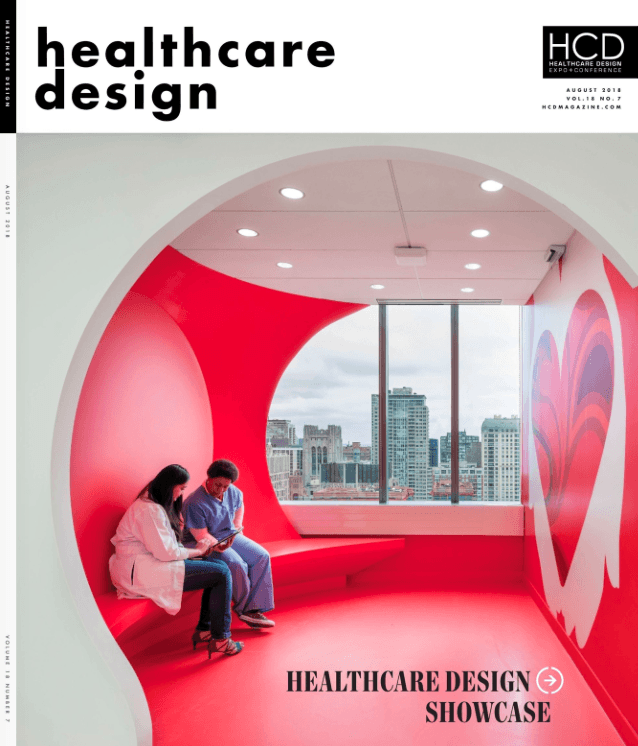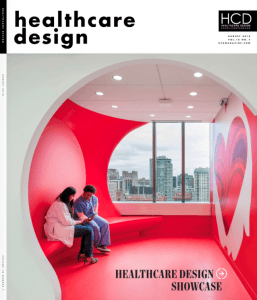 Have you seen the Healthcare Design showcase issue yet?
My copy came in the mail about two weeks ago and I just looked at it the other day.
I was pleased to see that two healthcare projects I've toured (and written about) received an Award of Merit.
The Best of the Best
The Shirley Ryan AbilityLab in Chicago, designed by HDR and Gensler, got jurors' attention for the way the building supports translational medicine and empowers patients and clinicians. They liked the intentionality of the design and bold use of color and graphics.
Some thought that it is a hospital designed for the future. I don't know about that.  I think it's a hospital designed to facilitate a new way of delivering rehabilitative care that's happening right now.
The Centre hospitalier de l'Universite de Montreal (CHUM), designed by CannonDesign and NEUF Architect(e)s, is the other Award of Merit winner I've toured. This 3.5 million square foot hospital impressed jurors for its operationally efficient design, human scale, integrated art program, and role in revitalizing the community.
I'm not sure many more hospitals of this size will be built in North America. The collaborative team effort that went into its planning, design, and construction is also impressive.
Healthcare Projects Better in Person
Looking at these healthcare projects in the print magazine reminds me of the fact that no matter how great the photography is, it's not the same as the real thing. There's just no way to experience the human scale of the ginormous CHUM or understand how translational design in the AbilityLab really works unless you see it in person.
Plus you can never see all the design details that separate the great healthcare projects from the good healthcare projects.
In all fairness, this competition is not just judged on photos or aesthetics.  Entrants have to provide detailed information on how the project also meets the criteria of innovation, collaboration, and functional/operational performance.
Perhaps one day instead of looking at photos, we'll be judging competitions like this using virtual reality or live drones. Wouldn't that be cool?
P.S. Please do me a favor -- if you liked this post and like this blog, please share it with others by sending them the link or posting it on your Twitter, LinkedIn, or Facebook. Also, don't forget to subscribe, so you'll get emails when new content is posted. Thanks!