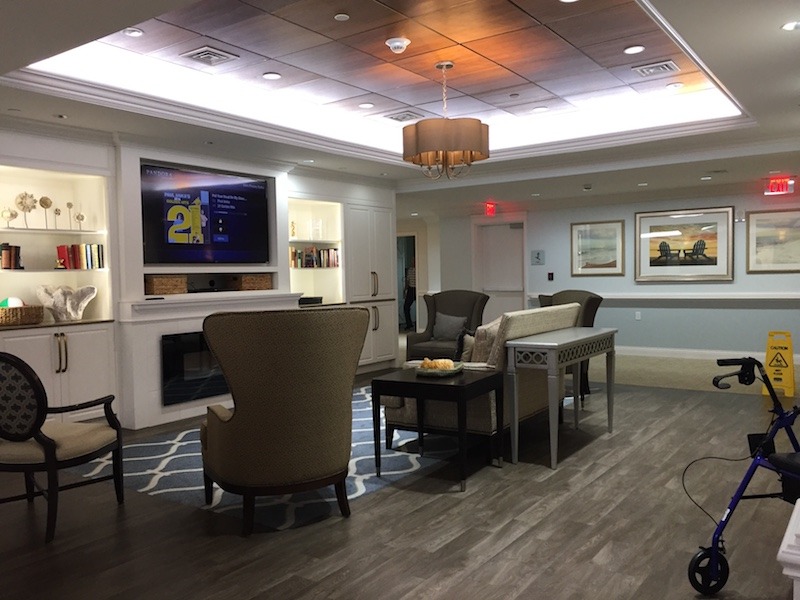 What if a neutral, multi-disciplinary group of experts offered to do a post-occupancy evaluation of one of your projects? For free.
Would you do it?
Heck yes, right?  A post-occupancy evaluation is such a rich learning opportunity that there's no reason not to.
The SAGE Post-Occupancy Evaluation Program
Since 1998, the nonprofit Society for the Advancement of Gerontological Environments (SAGE) has been quietly conducting senior living POEs at no cost to the architecture firms or providers.
I say quietly because unless you're a SAGE member or attended one of its POE presentations at the LeadingAge or Environments for Aging conferences, you probably didn't know this.
A paper detailing the findings of last year's SAGE POE of the memory and dementia care households at the Cottage at Cypress Cove in Fort Meyers, Fla. has recently been released for all to see. This is a change from the past when only SAGE members were able to access the information.
You might have seen the post I wrote a few weeks ago about this project's tunable circadian lighting system.
Summary of the Findings
But, if you didn't read the post or haven't had the chance to download and read the paper yet, here's a summary of the POE team's findings.
(Full disclosure:  the 2018-2019 SAGE POE program has been funded by my client, J+J Flooring Group.)
This project, which was designed by SFCS Architects, was chosen because it has won several national awards. Many consider it to be very innovative -- especially its tunable circadian lighting system, which has been shown to decrease agitation for those with dementia and improve sleep.
While no formal studies have been done (or are currently planned), anecdotal evidence gathered during the POE suggests that the tunable circadian lighting system is achieving those outcomes.
Staff, residents, and family members reported that the lighting is calming, especially when the lighting patterns begin to adjust into the evening. They have observed improved sleeping patterns.
What Works Well, What Doesn't Work So Well
Some of the other features the SAGE POE team found that work well are:
Open plan layout of two households helps with wayfinding and supports activities
Open plan layout of resident rooms provides a visual connection to the bathroom from the sleeping area
Sliding barn-style doors in resident rooms are easy to operate, work well with walkers, and are safer
Amber night lighting in resident bathrooms helps control the quality of visual stimulation when residents get up at night
Lean rails integrated into the wainscot detailing in corridors are useful for mobility and balance, yet maintain the residential feel of the household
Others they found didn't work so well are:
Busy vertical tile pattern in resident bathroom shower camouflages controls
Location of the multi-purpose room is not conducive to frequent use
Daytime circadian lighting clashes with wood-toned ceilings
Changes in flooring materials, colors, and patterns in some areas can result in problems with depth perception
2019 SAGE POE
This year's post-occupancy evaluation was conducted at LivGenerations Ahwatukee in Phoenix, Ariz. --  an award-winning project designed by Thoma Holec Design. I'm looking forward to hearing about some of the findings from this POE at the Environments for Aging conference next week when SAGE does its presentation on Monday, April 8 at 2 p.m.
A paper will also be released later this year to SAGE members first and then everyone else.
More About Post-Occupancy Evaluations
If you're not convinced a POE is necessary or valuable, check out these articles:
"Going Beyond the Punchlist:  Why Architects Should Embrace Post Occupancy Evaluations," Metropolis, 2019.
"Dispelling Five Myths About Post-Occupancy Evaluations," Building Design + Construction, 2017.
"Why Your Firm Should Embrace the Post-Occupancy Review," Architecture, 2014.
Photo:  Cypress Cove, Fort Meyers, Fla., courtesy of SAGE.
P.S. Please do me a favor -- if you liked this post and like this blog, please share it with others by sending them the link or posting it on your Twitter, LinkedIn, or Facebook. Also, don't forget to subscribe, so you'll get emails when new content is posted. Thanks!