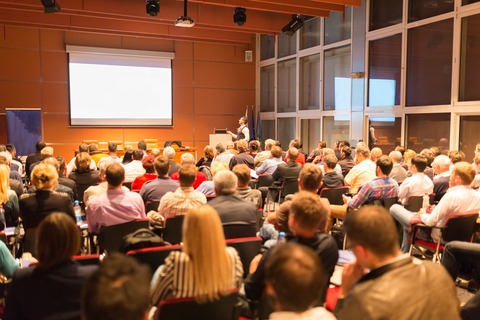 Are you attending the Healthcare Design Expo & Conference in a couple of weeks?  Have you picked out which educational sessions you want to go to yet?
The good news is that you still have time. The bad news is that it's not always that easy picking which sessions you want to attend.
I can help.
Besides the keynotes/general sessions, below are my picks for this year's conference.  Of course, they are based on the topics that interest me the most, but if you don't have time to go through the entire conference schedule before you get to Houston, it might be useful.
Most people end up session-hopping at conferences anyway.  Here goes:
Sunday, November 13
9:30 - 11:45 a.m.
D01-When Everything Else Changes, What Stays the Same?
Speakers: Richard Thomas, Thomas Advisors; Phil Cerniglia, Lothrop Associates, LLP; Cathy Dolan-Schweitzer, Health Well Done; Jerry Smith, SMITH - GreenHealth Consulting; Alberto Salvatore, Perkins + Will; Lynn Kenney, The Center for Health Design; Tom Jung, Thomas M. Jung Consulting, LLC.
Here come the functional program geeks. In this deep dive, a multidisciplinary team of experts use an innovative presentation approach to demonstrate why a functional program is critical to the success of your project, and how you can apply this new awareness to your workplace.
9:30 - 10:30 a.m.
E05-How New Construction and Renovation Can Impact Patient Experience
Speakers: Kathy Denton, The University of Texas-MD Anderson Cancer Center; Kelly T. Cuddeback, The University of Texas- MD. Anderson Cancer Center
Don't we all want to know the impact of new construction and renovation on patient satisfaction scores? A case study of MD Anderson Cancer Center. Conflicts with the deep dive above, but I couldn't decide on just one.
 E09-Targeting Zero: Reduction of HAIs through the Built Environment
Speakers: Michael Phillips, NYU Langone Medical Center; Sarah Markovit, NBBJ; Kerianne Graham, NBBJ
I like this one, too. Two designers and an infection prevention specialist explore current solutions to reduce HAIs -- including more than 20 design strategies ranging from table stakes to the provocative "infection prevention room."
10:45- 11:45 a.m.
E16-The ICONs: Innovative Hospitals Created by Architecture's most Renowned Designers
Speakers: Donald McKahan, McKahan Planning Group; Jennifer Aliber, Shepley Bulfinch
What happens when star-architects like Alvar Aalto, Norman Foster, Arthur Erickson, Michael Graves, and I.M. Pei. design hospitals? I bet it's not always good.
1:45 - 2:45 p.m.
E26-Lessons from the Corporate World: Applications for the Healthcare Workplace
Speakers: Laurie Waggener, WHR Architects; Leigh Stringer, EYP; Eileen McNeely, Sustainability and Health Initiative for NetPositive Enterprise, Harvard T.H. Chan School of Public Health
This is an important and timely topic that I wrote about in a recent post. Find out what effective health, engagement, and well-being measures, tools, and strategies used in corporate settings can be applied to healthcare acute care settings.
3:00 -4:00 p.m.
E35-The Art of Waiting
Speakers: Erin West Associate, CDH Partners, Inc.; Mary Lindeman, CDH Partners, Inc.; Libby Laguta, CDH Partners, Inc.
This topic is never going to get old because waiting is universal to all healthcare settings. Explore the effects of waiting room proxemics on gender, patient type, and more as presentors seek to answer the question, "Where do I sit?"
Monday, November 14
9:45 - 10:45 a.m.
E45-The Green Road Project: The Future of Healing Through Nature
Speakers: Frederick Foote, The Institute for Integrative Health; Kathleen Wolf, TKF Foundation; Jack Sullivan, The University of Maryland School of Landscape Architecture; Patricia Deuster, Consortium for Health and Military Performance (CHAMP)
How cool is this? The Green Road Project is the nation's newest and largest hospital-based healing garden. It's a half-mile-long green corridor, wheelchair path, and a 1.7 acre central woodland through the campus of Walter Reed National Military Medical Center.
2:00 - 3:00 p.m.
E56-Story Addict: Designing and Delivering Narrative
Speakers: Michael Bosch; Sheila Bosch, University of Florida, Department of Interior Design
I love storytelling. What are the secrets of storytelling that can help engage end users in the design process, develop inspired design solutions, and communicate, with confidence?
3:15 - 4:15 p.m.
E67-Making the Case: Communicating Design Value Through Outcomes and ROI
Speakers: Rana Zadeh, Cornell University, Department of Design and Environmental Analysis; Ellen Taylor, The Center for Health Design; Hessam Sadatsafavi, Cornell University, Department of Design and Environmental Analysis
How do you make the business case for better buildings? It's a question we've been asking for awhile. Researchers present frameworks for evaluating and communicating the costs and savings of evidence-based design interventions and the value of facility optimization to all management, clinical, research, and design stakeholders.
4:30 - 5:30 p.m.
E77-The University Medical Center of Princeton in Plainsboro: A Facility Evaluation Study
Speakers: Kathleen Schwarz, HOK; Barry Rabner, Princeton HealthCare System; Christopher Korsh, HOK
This is a great facility. But has it improved patient satisfaction, streamlined operations, and improved staff performance?  Hear it from the CEO's mouth and find out what worked and what didn't from a strategic, operations, and design perspective.
Tuesday, November 15
8:00 - 9:00 a.m.
E84-Circadian Lighting: Beyond Illumination in Healthcare Environments
Speakers: Patricia Rizzo, Philips Lighting Research North America; Mariana Figueiro, Lighting Research Center
How does light affect circadian rhythms? How can circadian disruption affect patients in hospitals and residents in long-term care facilities? What kind of light/dark patterns are recommended for these environments? All great stuff to learn about.
9:15 - 10:15 a.m.
E95-Public Art and Healing Art: The San Francisco Experience
Speakers: Susan Pontious; Mivic Hirose, Laguna Honda Hospital and Rehabilitation Center; Mary Louise Fleming, University of California, San Francisco; Larry Bongort, Stantec
What does it take to actually put an art program in place? Laguna Honda did it. Find out how to design and implement a successful art program.
1:15 - 2:15 p.m.
E101-Do Antimicrobials in Interior Furnishings Reduce HAI? A Review of the Evidence and Recommendations for Action
Speakers: Ted Schettler, Science and Environmental Health Network; Kate Wickman, Advocate Health Care; Rachel Gibson, Health Care Without Harm; Tracey Easthope, Ecology Center
I really admire Health Care Without Harm's work and am glad it tackled this issue. An infection control specialist also offers a perspective from a clinical setting on the use of antimicrobials in materials.
 E106-Healthcare Industry Transformation: The Convergence of Insurers, Providers, and Operators
Speakers: Bill Persefield, Navigant; Ray Pentecost, Texas Tech University; Christine Malcolm, Navigant
Here's another one for this time slot. Merger and acquisitions are a huge trend in healthcare. What are the implications for planning, design, and construction?
A Couple More Things
On Tuesday, November 15 at 8 a.m., Sarah Bader of Gensler and I are leading an interactive discussion (I20), "Let's Talk Trends: What's Influencing Healthcare Design Now and What's Next." It may already be sold-out, but there are always people who don't show up. Come prepared to share your thoughts on this topic!
Also, if you want some tips on talking to people you don't know at conferences, check out my recent LinkedIn post, "An Introvert's Guide to Conference Small Talk."
P.S.  Please do me a favor -- if you liked this post and like this blog, please share it with others by sending them the link and/or post it on your Twitter, LinkedIn, or Facebook, etc.  Also, don't forget to subscribe, so you'll get emails when new content is posted.  Thanks!