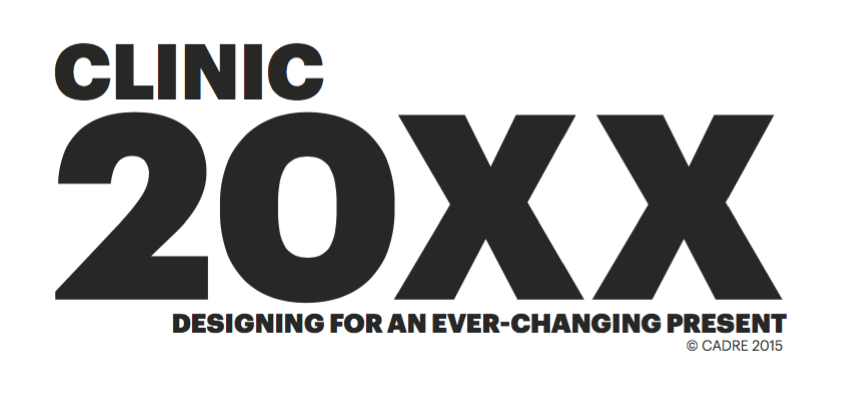 Are you thinking about what patients want and how that translates into facility design?
Then you should read CADRE's recent report, "Clinic 20xx:  Designing for an Ever-Changing Present." Sponsored by JE Dunn Construction and HKS, it's an excellent piece of research.
According to CADRE Executive Director Upali Nanda, the report is an "attempt to look deeper into our market to understand what is driving the latest trends and two of our key constituents (patient and physicians). Patient surveys focused on baby boomers and millennials - largest constituents of the workplace and healthcare marketplace today."
The report is long (104 pages) and detailed, but there's a great summary that begins on page 66, if your time is limited to read stuff like this.
Who Are These Patients?
Here's some interesting observations about the current U.S. patient population in the report:
For the first time in recent history, the healthcare marketplace is catering to four different generations — Silent Generation, Baby Boomers, GenX, and Millennials.
Each generation has unique emotional triggers and motivations. Boomers rely more on physician recommendations than Gen-Xers or Millennials, who rely on prior experiences.
Gen-Xers and Millennials are skeptics and need more information.
Across all generations, there is a need for instant gratification.
Millennials also have very little brand loyalty.
Patients are living longer, but are not necessarily healthier.
Don't Call Them Customers
So what do patients want from their clinic experience?  First of all, they don't want to be called customers. The rest of it is pretty simple:
They are attracted by convenience, affordability, and reputation.
Low waiting times, patient/provider relationships, follow-up care, cleanliness/hygiene, care coordination, streamlined registration, wi-fi access retain them.
Cleanliness and hygiene are important to patients in selecting a clinic.
They want same-day appointments and walk-in appointments with a wait time of less than 30 minutes.
Boomers who were surveyed value a quiet environment and are open to waiting an hour. Millennials want 24/7 access, online registration, and a spa-like environment.
Patients who had a reasonable wait time in the waiting room and at the registration areas reported being more satisfied.
What Are the Implications for Facility Design?
The report delivers a "punch list" of sorts in a table on p. 76. And it's a knockout.
The table outlines how the traditional approach to clinic design has changed and identifies innovations and key take-aways for the design of "change-ready" facilities. For example, the traditional waiting room has a television, magazines, and vending machines.
An innovation may be the elimination of waiting areas in lieu of "pause" areas. The key-take away for change ready facilities is to create pause spaces with comfort and connectivity to accommodate wait, but also have the ability to add value to the wait through engagement and education.
Want to Know More?
Watch this 60-minute presentation on the research:
P.S.  Please do me a favor -- if you liked this post and like this blog, please share it with others by sending them the link and/or post it on your Twitter, LinkedIn, or Facebook, etc.  Also, don't forget to subscribe, so you'll get emails when new content is posted.  Thanks!