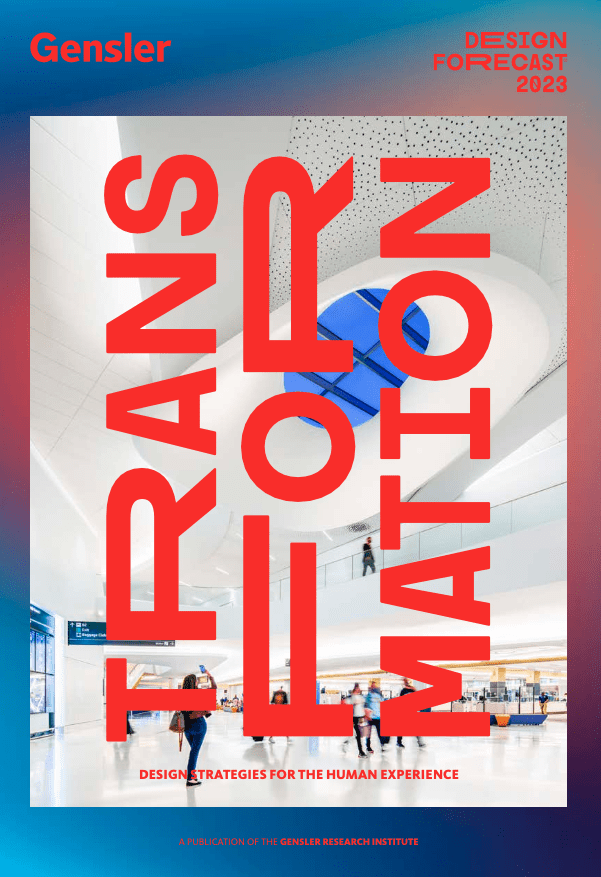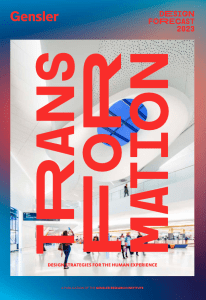 The word for 2023, according to Gensler is "transformation." That's what is on the cover of its recently released 2023 Design Forecast -- along with the tag line "design strategies for the human experience."
The world's largest design firm is also touting strategic design thinking as a catalyst for transformation. And while you might already be thinking along these same lines, when Gensler says it, it's coming from the unique perspective its firm leaders have on the issues driving change across all market sectors.
"As a discipline, design inherently connects and unifies diverse ideas, tools, and approaches," write Co-CEOs Andy Cohen and Diane Hoskins in the introduction to the 97-page report. "Where a traditional approach to problem-solving is often siloed and myopic, strategic design thinking is expansive."
They also talk about the power of design to affect change, particularly when it comes to climate change and creating social impact in our communities. And also about how it can affect the human experience.
"We've learned that what people want is experience," they state. "While the brief of a project may be a building, a tower, or a development, the spirit of every project is the human experience."
Thank you for reminding us of that, Gensler.
3 Trends Influencing Healthcare Design
As the costs of clinical care keep rising, Gensler believes there will be a "global urgency to find new, more efficient models of delivery." Community-based approaches will be needed to ensure the best experience possible for patients, caregivers, staff, and visitors.
Specific trends that could influence design:
Healthcare systems will redefine their services to tackle social issues such as affordable housing and food insecurity.
AI and machine learning tools will transform healthcare by predicting and responding to patient preferences.
Involving patients and providers in the design and implementation of digital solutions will shrink the health equity gap.
Only time will tell how AI and machine learning will transform healthcare. But some, like The Medical Futurist Bertalan Mesko, think it will redesign healthcare completely.
3 Trends Influencing Senior Living Design
Traditional rural senior living communities aren't all that attractive to Boomers. Today's active older adults are living longer and many are interested in living in urban areas that are closer to the action.
Gensler thinks that to meet their needs, "we must design cities to be more affordable and more friendly to older adults." Specific trends that could influence design:
By eliminating ageism, we would improve health and generate billions in the global economy.
Adaptive reuse will increase access to affordable, amenity rich senior living options in the city.
Labor gaps are compelling the industry to provide supportive social services like housing.
The tough one here is eliminating ageism, particularly in cultures like the U.S., where getting older has been perceived as negative for decades.
3 Trends Influencing Wellness Services
Wellness is universal to all spaces. For healthcare and senior living, wellness is not just about patients or residents, but also caregivers and staff.
Gensler points out that responses to climate change, the pandemic, and economic uncertainty has helped create "a movement to redefine and promote wellness at all scales — in our cities, institutions, workplaces, homes, and the spaces in between." Specific trends that could influence design:
Supporting emotional and mental well-being will become a differentiator for recruiting and retaining talent.
Workplaces that provide a sense of health and wellness will have an ecosystem of spaces that provide workers choice.
New tools and codified metrics will allow us to understand how the built environment affects health and wellness.
I hope those new tools and codified metrics will also show how designing healthy buildings offer a good return on investment by helping to recruit and retain employees, enhance employee productivity and reduce absenteeism, improve patient and resident outcomes, reduce operating costs, and more.
Will all of these trends identified by Gensler continue to gain momentum and have long-term implications? My prediction is that they will.
But there are things coming that we don't even know about yet. And that's what makes all of this stuff so interesting.
P.S. Please do me a favor -- if you liked this post and like this blog, please share it with others by sending them the link or posting it on your Twitter, LinkedIn, or Facebook. Also, don't forget to subscribe, so you'll get emails when new content is posted. Thanks!