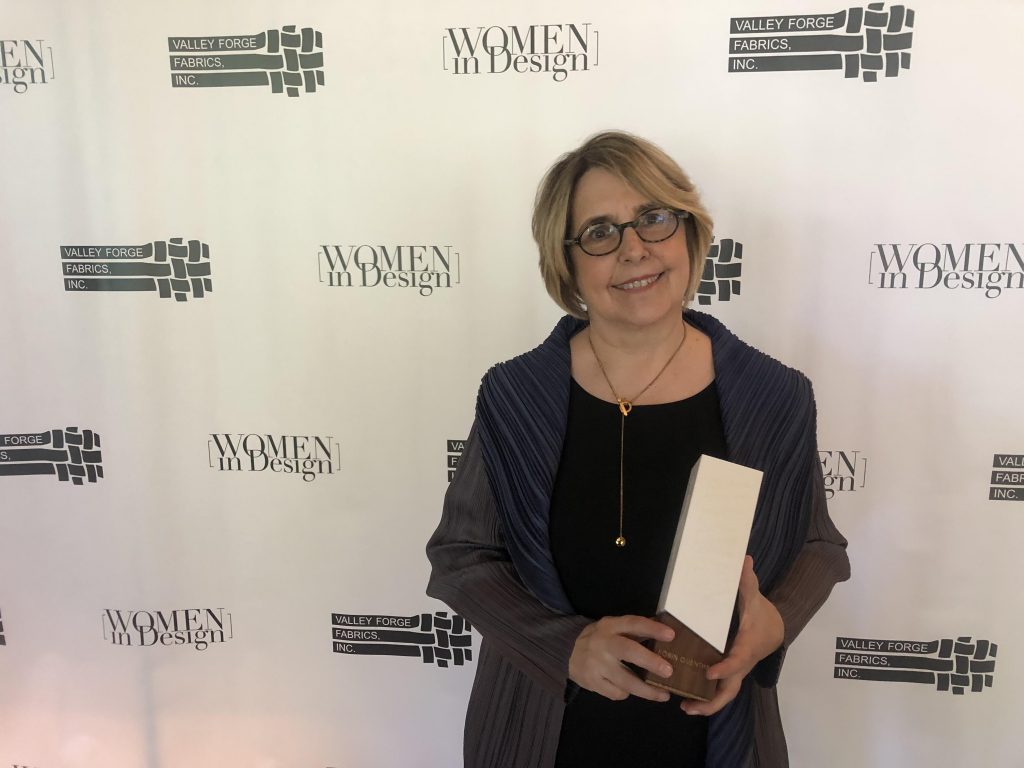 The Royals are pregnant again. The Boston Red Sox won the World Series. Again. And apparently, people have been scattering cremated ashes at Disney theme parks for decades.
Okay, none of that has anything to do with healthcare design. But here are some things you may have missed in the last few weeks that do:
Women in Design
Kudos to Hospitality Design, design:retail, Healthcare Design, Environments for Aging, and Contract for launching this program to acknowledge and honor some of the most influential women in the magazines' respective industries. Hard to top these 2018 honorees for healthcare and senior living design:  Robin Guenther of Perkins+Will (pictured above); Suzen Heeley of Memorial Sloan Kettering; and Jane Rhode of JSR Associates. More>>>
Boomers Toking It Up
Senior living designer Lisa Cini's survey about marijuana and cannabidiol (CBD) use by Baby Boomers and older found that 83% of the 11,000+ respondents are using some form of cannabis, either for medical, recreational purposes or both. Is this true? Apparently so. Almost 50% partake both for recreational and medical reasons, 66% partake daily, and 5% use rarely. Cini thinks this has implications for senior living design. More>>>
Alternative Therapies for Pain Tops the List
The Cleveland Clinic's annual top 10 list of medical innovations also includes the use of artificial intelligence in healthcare, an expanded window to treat stroke patients, and advances in immunotherapy for cancer treatment. The list of up-and-coming "game-changing" technologies was selected by a panel of Cleveland Clinic physicians and scientists. More>>>
What a Country: Yakov Smirnoff Themed Senior Housing
The famed comedian wants to build a themed senior living community on the site of his dinner theater in Branson, Mo. Yes, folks, it's "Yakov Towers," in the heart of the entertainment capital of the Midwest. Not a bad idea, actually.  Plans call for 220 independent living units, 120 assisted living units, an 80-unit memory care wing, 42 town homes, and a 120-room hotel. More>>>
My Session Picks for Healthcare Design
If you've procrastinated this long in picking the educational sessions you want to attend at next week's Healthcare Design conference in Phoenix, don't panic. Everyone session hops anyway. Including me. More>>>
Cool New Research and Insights
A few weeks ago, I wrote a post about some new reports that had some interesting ideas about the single largest disruptor to the healthcare industry:
"Convergence of Healthcare Delivery in the U.S." survey by IMEG and Transwestern of 31 healthcare and design thought leaders.
"As Amazon Turns Its Gaze to Healthcare, the Industry May Be in for a Wild Ride," paper by L.E.K. Consulting that concludes online retailer Amazon already has what it needs to disrupt healthcare.
And this week, I got emails announcing two new reports that I can't wait to read:
"Gensler Design Forecast: Shaping the Future of Cities" dives deep into trends from the Gensler Research Institute about the role of design in creating the places where people live, work, and play in cities around the world.
"Delta Volume 2: Perspectives on the Future of Health" is the second volume of HDR's series about how to respond to increasing unknowns int he healthcare industry while encouraging future-focused innovation.
P.S. Please do me a favor -- if you liked this post and like this blog, please share it with others by sending them the link or posting it on your Twitter, LinkedIn, or Facebook. Also, don't forget to subscribe, so you'll get emails when new content is posted. Thanks!