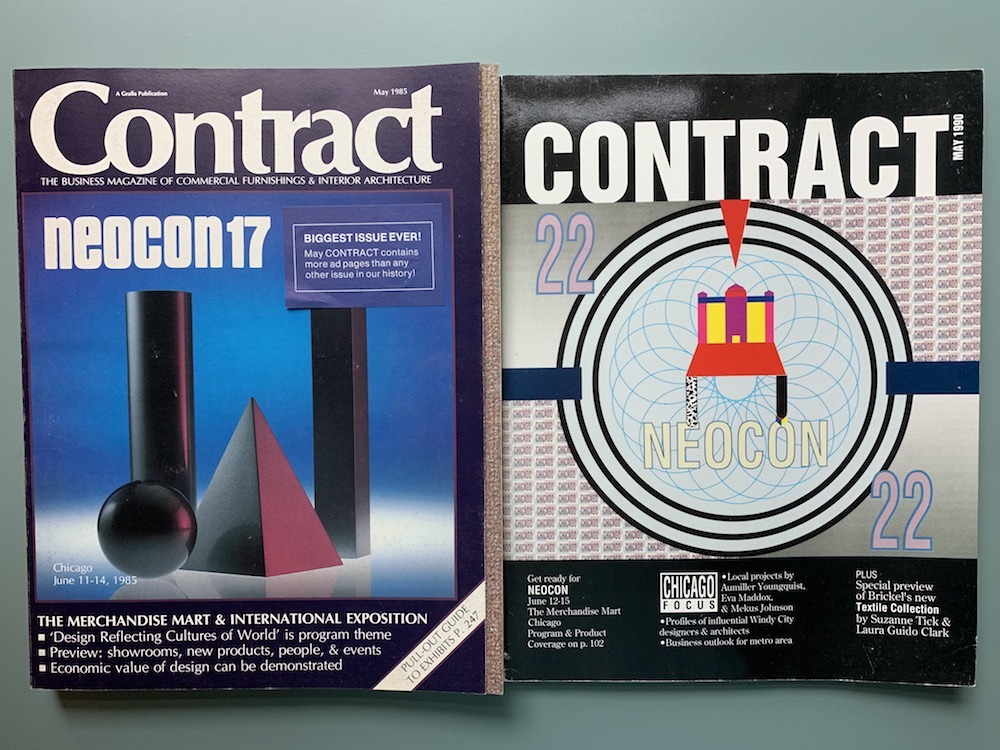 When I got the news recently that after 60 years Contract magazine was closing down, I felt sad -- and a bit nostalgic.
I was an editor at Contract magazine in New York from 1985-1990. The photo above shows copies of the first and last of the 60 issues that had articles with my byline.
As I told Cheryl Janis, the host of the Healthcare Interior Design 2.0 podcast earlier this year, I never started my career intending to be a writer.
Start at The Mart
After college I worked as a communications coordinator for The Merchandise Mart in Chicago producing and promoting national commercial furniture and flooring trade shows, like NeoCon and the Largest International Floorcovering Exhibition (LIFE) market. Because of this, I got to know the editors and publishers of the design magazines in New York.
After two years, I left The Mart to get married and move with my new husband to New Jersey where he had been transferred by Prudential. I spent the next year setting up house, being a dog and cat mom, and playing tennis.
But I was bored at home in the suburbs and wanted to get back to work. With the encouragement of Jim Bidwill, my former boss at The Mart, I called some of those editors and publishers in New York and set up meetings with them.
East Side or West Side?
The first person I met with was Lester Dundes, the long-time publisher of Interior Design magazine. He had a fancy office in the Lipstick Building on Park Avenue on the east side of Manhattan.
Lester was very nice. We spoke for a bit and I told him I was looking for a job. In his crusty voice he said, "You can't write for us. You don't have any experience as a design writer or journalist."
That sort of burst my bubble. But I moved on to the next person.
And that person was Len Corlin, the editor and co-publisher of Contract magazine, who'd also been at the helm for awhile.
Contract had less fancy offices than Interior Design, but Len's office at 44th and 7th Avenue on the west side was a big corner space with spectacular views of the Hudson River. There were piles of papers and stuff everywhere.
Len liked the fact that I'd worked for The Mart and was familiar with the contract furniture industry. So he hired me as an associate editor. I went to work for Contract's parent company, Gralla Publications, which was founded by brothers Milt and Larry Gralla in 1955.
Becoming a Design Writer
Over the next five years, I learned how to be a design writer, doing stories about commercial projects, people, and products in all areas of the country. I also wrote a column on color trends.
In those days, not many design magazines were publishing healthcare projects. They weren't pretty enough.
But it was during my stint at Contract that I met Wayne Ruga and was introduced to the world of healthcare design. Len was open to exploring it and supported my participation in the First Annual Symposium on Healthcare Design in La Costa, Calif. in 1988.
I also covered furniture markets in the U.S. and went to furniture fairs in Milan, Cologne, Copenhagen, and London. I flew to Grand Rapids on the Steelcase corporate jet and was hosted by product manufacturers on trips to Italy, Germany, and Scandinavia.
It was a pretty good gig.
From Editor-in-Chief to Marketing Consultant
I met a lot of people and enjoyed working with my Contract buddies, which included Roberta Walton, Dana Dubbs, Eileen McMorrow, Richard Zoehrer, David Emfinger, and Jackie Flannery. I learned so much from Len, who was generous and kind, and passionate about the contract furniture industry. He was truly a champion for young editors like me.
By the end of my time at Contract, I had been promoted to editor-in-chief and Len had stepped into an associate publisher/special editorial projects role.
But I clashed with the new publisher and she decided to make a change when I was only five months into the job. Roger Yee took my place as editor-in-chief of Contract.
I was devastated, but pulled up my bootstraps and started networking. Gary DePuydt at Charlotte wanted to hire me to do PR, so I became a marketing communications consultant.
I never stopped writing though.
Looking Back
Years later, I was at a black tie event in Chicago during NeoCon and I came upon Lester Dundes sitting alone in a hallway outside the ballroom. He was probably in his early 80s by then.
We chit-chatted a bit about the show and I filled him in on what I was doing with The Center for Health Design and other clients. Then he said, "I wish we could have hired you. We just didn't have any positions open at the time."
I'm not sure I would have fit in at Interior Design. Contract was perfect for me.
What's Next for Design Trade Magazines?
It's a different world now in so many ways. Publishing has been struggling to reinvent itself for years as more people consume content online.
Plus, the contract furniture industry consolidated, so there are fewer advertisers to spread out among multiple trade magazines. Specialty publications, like Healthcare Design, also came along and took advertising revenue away from the established design trades like Contract, Interiors, and Interior Design.
Sadly, Interiors folded many years ago. As did Facilities Design & Management and Designer's West. Progressive Architecture was absorbed by Architect magazine.
And the business strategy for media companies these days is to bolster a trade magazine with a trade show. But with trade shows on hold right now, this may spell trouble for the remaining design trade magazines.
I hope not. Because we still need those important editorial voices in the design industry.
Share Your Memories
Do you have any fond memories of Contract magazine? Share them below in the comment box or contact me.
P.S. Please do me a favor -- if you liked this post and like this blog, please share it with others by sending them the link or posting it on your Twitter, LinkedIn, or Facebook. Also, don't forget to subscribe, so you'll get emails when new content is posted. Thanks!