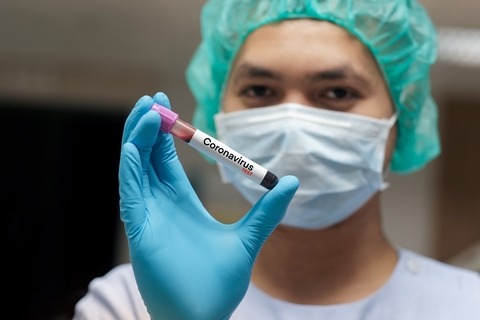 Unless you're living under a rock, I'm sure you've heard about the coronavirus, a highly contagious respiratory infection originating in Wuhan, China, from snakes. As of today, the virus had spread to 25 countries, with 9,929 confirmed cases and 213 deaths.
China is doing everything it can to stop the spread of the virus and treat those who are infected. It's even building a 1,000-bed hospital in Wuhan, which it plans to complete in just 10 days.
Okay, it's not really a full-blown hospital, but rather an isolation center. Apparently Chinese officials did something similar when the SARS outbreak happened in 2003.
Remember Ebola?
And let us not forget about the Ebola crisis of 2014. That contagion caused many U.S. healthcare designers and professionals to turn their attention to designing biocontainment units with things like efficient air flow and filtration systems, isolation rooms, and gowning areas.
Yet before we all panic about the coronavirus, I want to remind you that according to the World Health Organization, hundreds of millions of patients every year get infections while they are in hospitals and healthcare facilities. Many more than 213 die.
I know what you're thinking. Designing environments to stop the spread of contagious diseases that patients have before they get to the hospital is different than designing environments to prevent infections that patients might get after they get to the hospital.
True. The two are very different and yet very similar.
And not all infections people get in the hospital come from surface contact or airborne transmission. Many are due to poor medical procedures or inadequate handwashing.
Doing Everything They Can
So which should we be more concerned about? The newness and unknown about the coronavirus -- plus the media hype is making everyone nervous. With people traveling by plane all over the globe, it's much easier for something like the coronavirus to spread.
And while some progress has been made in the U.S. to reduce healthcare-acquired infections (HAI) every year, it's still a huge problem, with more than 72,000 people in the U.S. dying every year, according to the Centers for Disease Control and Prevention (CDC).
This is more than 300 times the number of people who've already died from the coronavirus worldwide.
Healthcare providers should be concerned about both. They should be prepared to treat patients with contagious diseases and they should be doing everything they can to reduce healthcare-acquired infections.
Many are. And many understand that the design of the physical environment matters when it comes to preventing the spread of contagious diseases as well as infections that come from poor handwashing, surface contact, or airborne transmission.
Positive Signs
Personally, I'm more concerned about healthcare-acquired infections, because I think the chance of me or one of my friends or loved ones getting an HAI is greater than getting the coronavirus.
There has been some improvement. The CDC reports that from 2005 to 2016, the incidence of hospital-onset and community-onset MRSA bloodstream infection declined 74% and 40%, respectively. And there are positive reports about other types of HAIs as well.
But we can still do better.
Lots of Opportunities for Changes & Innovation
Many product manufacturers -- particularly those who make surface materials -- are all over infection control. Because, although most contact germs can be killed by a good cleaning, there are lots of opportunities for changes and innovation.
Take glass, for example. While it's more expensive than a cubicle curtain, its much less costly and easier to clean, and it never needs to be replaced.
Research has also shown that antimicrobial copper can kill surface bacteria and reduce pathogens in hospital rooms. A recent study also found that copper beds in intensive care units harbored an average of 95 percent fewer bacteria than regular hospital beds.
It's also fascinating to look at the new germ-zapping technology hospitals are using.  Maybe one day this will be fully integrated into a patient room instead of just a robot who pays a visit when the patient is out of the room.
Want More?
Check out these resources about designing for infection control and contagious diseases:
"Working to Reduce HAIs: How Design Can Support Infection Control and Prevention," The Smith Group, March 2019
Infection Control Toolbox, Center for Health Design, July 2019 (must be an Affiliate member to access)
"Precautionary Tale: A Detailed Approach To Biocontainment Unit Design," Healthcare Design, February 2016
P.S. Please do me a favor -- if you liked this post and like this blog, please share it with others by sending them the link or posting it on your Twitter, LinkedIn, or Facebook. Also, don't forget to subscribe, so you'll get emails when new content is posted. Thanks!