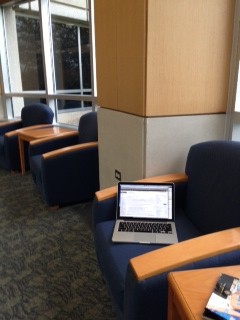 Today, I find myself in the hospital waiting area while my husband has knee replacement surgery. I will be there 3-4 hours, possibly more.
Yesterday, I received a digital copy of Steelcase Health's "Time for Change: New Solutions for Healthcare Places" -- a guide that was informed by 18 studies and 15,000 hours of observation over 10 years.  In it was a section on waiting places, with five key insights to inform hospital waiting area design:
Addition of technology empowers meaningful waiting
People naturally seek separation from strangers and proximity to family while waiting
Physical and emotional comfort is important when people are waiting
Active, productive waiting calls for a variety of environments
Waiting is an ideal opportunity to educate people about good health
Just by calling it "waiting places" rather than "waiting areas" means that its a different kind of space. And while the hospital waiting area I'm in right now is pretty nice, it was probably designed more than 10 years ago.
So, its waiting area only partially addresses the issues above.
Does it matter?  The people here are friendly and helpful, and I feel that my husband is getting good care.
Like the airport, though, I'm camped by one of the only outlets in the room.  And the chairs are lined up around the perimeter and in the center -- not very conducive to conversation when the rest of my family gets here.
There's a water fountain, artwork, fireplace, and a coffee maker. One semi-private space in the corner by the business center. Not bad, but we can do better.
It's quite simple, really -- just follow Steelcase Health's suggested design principles:  design for the human factor and integrate the experiences.  That works for just about any type of project, doesn't it?
P.S.  Please do me a favor -- if you liked this post and like this blog, please share it with others by sending them the link and/or post it on your Twitter, LinkedIn, or Facebook, etc.  Also, don't forget to subscribe, so you'll get emails when new content is posted.  Thanks!