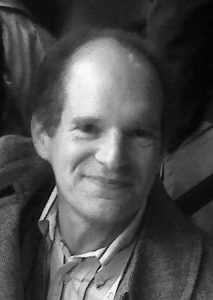 It's not often that one person can make a difference in an industry as large and complex as healthcare.
But I think that Robert N. Mayer is one of them.
Since the early 1990s, Rob, who is President of the Hulda B. and Maurice L. Rothschild Foundation has been funding projects to raise awareness of issues related to long term care. Recently, he told me the story of how the Foundation started and what led him to healthcare design.
It's a cool story, so I'm going to share it with you.
Rothschild's Fine Clothing Store
Maurice Rothschild came to the U.S. from Nordstetten, Germany in 1879 at age 14, settled in Kansas, and started a dry goods business.  In 1906 he moved to Chicago and opened a fine clothing store, eventually expanding to five other cities in the Midwest.
When Maurice died in 1941 at age 76, Hulda, his wife of 17 years, leaned in, took over the business and made it really successful during a time when there weren't many women in business.  Hulda eventually recognized that discount retailers would erode the fine clothing business and sold the company.
Hulda, who had no children, lived to the wonderful age of 102 in a suite in the Drake Hotel at the north end of Michigan Avenue in Chicago. When she died in 1980, she left her money to a foundation with several trustees, one of whom was her great-nephew, Rob.
What To Do With Hulda's Money?
There were no specific instructions as to what to do with the money. Rob and the other trustees decided that since Hulda had lived so long and had had a great quality of life until the end, they would focus on providing services for elders.
The first initiative of the foundation was to buy tickets for elders to go to arts programs in the city of Chicago.  One winter, when a dowager wearing a fur coat thanked him for a free ticket to the symphony, Rob realized that she and many other patrons didn't need the foundation's help to buy tickets to the symphony.
So, he decided to shift the foundation's focus to elders in greater need: those in nursing homes.
For several years, the foundation had success providing funding to bring the arts to nursing homes in Chicago.
While this was good, it became clear to Rob that the impact on these people's lives was just for an hour or two a week.  The rest of their lives were spent living in institutional environments that weren't so nice.
Shift to Person-Centered Care
So, he shifted the foundation's focus again from support of local to national organizations that could help create a more person-centered approach to long term care -- a piece of which included the design of the physical environment.
That's when Rob reached out to organizations like The Center for Health Design, Pioneer Network, Planetree, and Society for the Advancement of Gerontological Environments.  He and I first met in the early 1990s.
I now see how unusual it was for a foundation to reach out to organizations to explore project funding. Mostly it's the other way around.
Initially, Rob and his foundation funded a wide range of projects including conferences, publications, media, research, and national competitions. However, nothing seemed to have a lasting impact on the field of long term care.
Changes to Regulations
Responding to a chorus of complaints about a variety of regulations that appeared as barriers to some person-centered practices, in 2004 Rob began reaching out to the regulatory community in order to address the need to adjust some regulations to better support elder quality of life.
As a result, seven national Rothschild Regulatory Task Forces are now actively working on person-centered changes for a wide variety of national regulations and guidelines. The success of these task forces can already be seen in the recent changes to the Life Safety Code, Dining Clinical Standards, and pending publication of the new Guidelines for Design and Construction of Residential Health, Care & Support Facilities.
So you see, it is possible for one person with a vision and some resources to make a difference.  And I think Hulda and Maurice Rothschild would be very proud of how their money has been put to use.
Postscript
Rob passed away in December 2015. His advocacy and passion for the field will be greatly missed.
P.S.  Please do me a favor -- if you liked this post and like this blog, please share it with others by sending them the link or posting it on your Twitter, LinkedIn, or Facebook. Also, don't forget to subscribe, so you'll get emails when new content is posted.  Thanks!