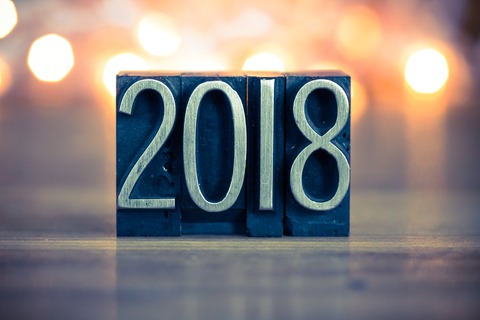 Was 2018 a good year for healthcare design? I think so.
Top issues influencing healthcare design were access to care, climate change, digital health, and improving the patient experience. And even though we've been talking about them for 10 years or so, Baby Boomers are still having the biggest impact on senior living.
In 2018, I wrote 44 blog posts on a variety of topics related to healthcare design (plus a few on marketing). Here are the most-read ones:
10.  Going for the Gold in Healthcare Design: 7 Winners
Every four years we get to celebrate our winter athletes and watch obscure sporting events like curling and skeleton. But what does this have to do with healthcare design? Nothing, really.  But it did get me thinking again about the gold medal "performances" that have happened recently in U.S. healthcare design. Read more>>
9. Hospital Design is Not a Beauty Contest
Did you happen to see who made Soliant's Top 20 Most Beautiful Hospitals in America? Maybe you're wondering who Soliant is and why it is doing this ranking? Soliant is a healthcare staffing company that collects nominations and votes for its annual contest. I'm not sure who votes, but 250,000 people did. And they picked Golisano Children's Hospital of Southwest Florida in Fort Myers, Fla. as the most beautiful hospital in America. Read more>>
8. Healthcare Products at NeoCon:  It's All About Seating
Mobs of people crammed into The Merchandise Mart in Chicago this past week for Neocon — the largest commercial furniture and furnishings exhibition in North America. Showrooms were packed, educational sessions sold out, elevator lines were long, and everyone was looking for a place to sit down. Which was good, because there was a lot of seating at Neocon this year. Especially healthcare seating. Read more>>
7. Four Potential Macro-Shocks to Senior Living
I've been thinking a lot about senior living design lately. There are two main reasons for that. One, my parents reside in a senior living community in Central Illinois. My 84-year-old mother is in the later stages of Alzheimer's Disease and my father is her caregiver. They still live in independent living. Which is not really how the continuing care model is supposed to work. Read more>>
6. Shouldn't Hospitals Be Healthy Buildings?
I'm happy to report that the healthy building movement is alive and well in the U.S. and abroad. At Neocon last week — the largest commercial furniture exposition outside of Orgatec in Germany — everyone was talking about healthy workplaces. Which is relevant to healthcare design since hospitals and clinics are workplaces, too. Read more>>
5. Who's Number One in Hospital Design in the U.S.?
Is the Mayo Clinic, the number one hospital on U.S. News & World Report's 2018-2019 honor roll, also the number one in hospital design? That was the question I asked my LinkedIn followers when I shared the link to the best hospitals rankings this week. Mayo has pretty nice facilities, but I'm not sure I'd rank them number one in hospital design. Read more>>
4. 4 Patient Safety Issues Impacted by the Hospital Environment
What are the top patient safety issues for 2018? And which of them are impacted by the hospital environment? Recently Becker's Clinical Leadership & Infection Control editorial team picked its top 10 patient safety issues. These were based on news, study findings, and trends reported in the past year. Read more>>
3. Every Nurse Deserves a Zen Den
Ever hear of a "Zen Den"? I hadn't until I read this statement in Modern Healthcare by Ann Marie Leichman, Chief Nursing Officer, Valley Hospital in Ridgewood, NJ, on how they are handling nurse burnout: We have created an environment here where the message is, "You need to take care of yourself before you can take care of somebody else." Read more>>
2. New Lake Forest Hospital is Beautiful -- Really
This week, I toured a very beautiful hospital. And despite my reluctance of not wanting to describe hospitals as beautiful, Northwestern Medicine's Lake Forest Hospital in Lake Forest, Ill., is a visually stunning building. Maybe that's what you get when you hire a starchitect like Cesar Pelli to design your hospital. Read more>>
1. 10 Myths of Wayfinding in Healthcare Facilities
"Healthcare facilities use wayfinding like a drunk uses a lamppost: for support, not illumination," Mark VanderKlipp, partner, Connect_Cx told me last week when we met at the Beryl PX Conference. What he means is that if they are designed as part of a comprehensive communications platform, wayfinding tools can be used to effectively support the entire patient experience. Read more>>
P.S. Please do me a favor -- if you liked this post and like this blog, please share it with others by sending them the link or posting it on your Twitter, LinkedIn, or Facebook. Also, don't forget to subscribe, so you'll get emails when new content is posted. Thanks!