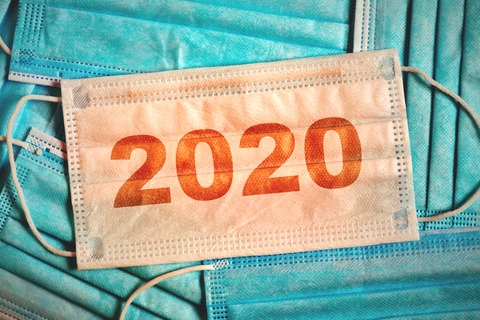 Well, 2020 was quite a year, wasn't it? One in which nothing really changed, except everything.
It was impressive to see the healthcare and senior living design community rise to the logistical, health, and safety challenges posed by Covid-19. Not only did you put ideas and strategies into practice, but you also shared them with others in blog posts, articles, papers, online presentations, and webinars.
And if you're a follower of my blog, you probably know that designing for Covid-19 was the topic that dominated my writing for most of this past year. But in case you missed them (or want to read them again), these are the top 10 most read blog posts that I wrote in 2020:
10. Which Type of Flooring is Better for Infection Control? 7 Things You Should Know
June 30: Do you believe that hard surface flooring is better than soft surface flooring in preventing the spread of pathogens like the coronavirus that causes Covid-19? That's what many hard surface flooring manufacturers want you to believe, some even going to far as to say avoid soft surface flooring entirely.
9. What's Normal About Now? Healthcare Design Strategies for Our Current Reality
November 20: This week, I was fortunate to moderate a live roundtable discussion hosted by Construction Specialities with three of my healthcare design friends: Tama Duffy Day of Gensler, Tushar Gupta of EYP Architecture and Engineering, and Victoria Navarro of Advocate Aurora Health. They had so much to say about healthcare design strategies for our current reality that we barely got through all my questions.
8. Is $999 Too Much for a Virtual Conference?
November 6: I'd really like to attend HCD Virtual conference next week. But I'm struggling with justifying paying $999 for an online event. I seem to recall that a full standard registration for the in-person HCD Expo + Conference last year was not a whole lot more than $900. How can a virtual conference that is only offering educational sessions be about the same price?
7. 8 Design Strategies for Senior Living & Residential Care Post Covid-19
May 29: You may have read my post a few weeks ago on what's next for senior living and residential care design in the wake of Covid-19. Now you can watch the movie. Well, actually a recorded 22-minute webinar (see below). I share 8 design strategies of how senior living and residential care providers, architects, interior designers, and product manufacturers can respond to the challenges presented by the pandemic.
6. 16 Classic Books About Healthcare Design That Should Be On Your Bookshelf
December 11: Wondering which classic books about healthcare design should be on your bookshelf? I've got some recommendations. But first, what is a classic book? From what I can gather, a classic book is one that is considered exemplary or noteworthy. One that has lasting value or a timeless quality about it.
5. 6 Predictions for Healthcare and Senior Living Design in 2020
January 10: Now that we've entered a new year, it's time to make a few predictions about things that will happen in the U.S. healthcare and senior living design industry in the next 12 months. So I looked into my crystal ball and came up with a few, which are listed in no particular order. Full post>>>
4. Impact of Covid-19 on Healthcare Facility Planning and Design: What Others are Saying
May 8: In the past few weeks, I've received many comments and thoughts about my Zoom lecture, "In the Wake of Covid-19: What's Next for Healthcare Facility Planning and Design?" So, I thought I'd share a few of them.
3. What You Should Be Reading: Articles About the Impact of Covid-19 on Facility Design
May 21: Since early March, I've been compiling a list of useful articles and blog posts that are relevant to the impact of Covid-19 on senior housing, hospital, clinic, and residential facility design. They are listed by date published, with the most recent at the bottom of each category. I'll keep updating this list every once and a while, so bookmark the link to this page and check back again.
2. What's Next for Senior Living and Residential Care?
May 1: As the number of residents in nursing homes dying of Covid-19 continues to increase, the senior living industry finds itself faced with some new challenges. Will seniors want to live in congregate housing? Will people want to work in senior living communities and residential care facilities? How can they be made safer without isolating residents?
1. What's Next for Healthcare Planning and Design?
April 17: A few weeks ago, I reached out to some professors at universities with healthcare architecture and design programs and offered to be a Zoom Guest Lecturer. Now that teaching during this crisis has shifted online, I figured some of them might be looking for material they could present to their students virtually. So this week, I did a lecture to students in the Chicago Studio of the University of Illinois Health + Well Being Architectural Studies program.
Just One More
"What We Know About Designing for Telehealth" was published on December 18, when many of you had already checked out for the holiday. So it didn't get as many page views. This post offers a glimpse into data and information from two recent "must-read" reports for anyone designing spaces for virtual visits.
P.S. Please do me a favor -- if you liked this post and like this blog, please share it with others by sending them the link or posting it on your Twitter, LinkedIn, or Facebook. Also, don't forget to subscribe, so you'll get emails when new content is posted. Thanks!