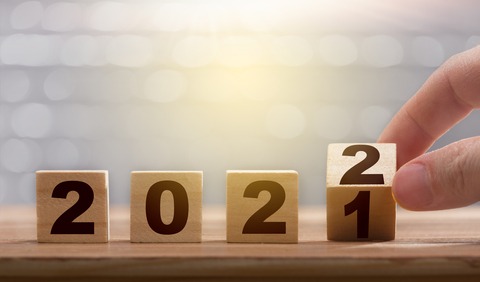 Well here we are at the end of another year.
And we're still facing a lot of challenges brought on by the pandemic. So it's not surprising that out of the 51 posts I wrote and published in 2021, five of my 10 most-read posts of the year are about planning and design strategies being shaped by Covid.
But, you were also engaged by posts about personal growth, resources, and people in the field. And a lot of other topics didn't make this list.
Here's some of my most popular posts that you may or may not have seen in 2021:
10. Top 10 for 21: How to Make a Bigger Impact, Advance Your Career, and Connect With Others
February 5: What are you going to do this year to make a bigger impact, advance your career, and connect with others? Maybe you're looking for a reset.
Or want to inject some Ted Lasso positivity into your professional life. I have some ideas. Full post>>
9. 2021 Healthcare Design Expo & Conference: The Same, But Different
October 29: In case you were wondering, I did make it to the Healthcare Design Expo & Conference (HCD) in Cleveland this past week. And I'm glad I went even though I wasn't sure I wanted to be inside a convention center with a couple thousand people for three days. Full post>>
8. 5 Podcasts About Design to Check Out
April 30: I love podcasts. Unlike a webinar, you don't have to be sitting in front of your computer staring at a screen. You can listen to them anywhere, anytime.
An ideal podcast for me is one that is 30 minutes or less, unless it's broken up into different topics with different people. Very few people (including me) are engaging interview subjects for more than 45 minutes. Full post>>
7. Ventilation in Healthcare Facilities: Can We Do Better?
May 28: Should ventilation in healthcare facilities go back to the old ways? Back to the open ward days of Florence Nightingale where windows opened and bad air was sucked out through chimneys? Or to the 1920s during the flu pandemic when infected patients in some hospitals were taken outside?
Probably not. But these days, the idea of being able to go outside or open windows seems like a simple solution to help prevent the spread of infection. Full post>>
6. Focus on Healthy Buildings is a Positive Outcome of Covid-19
January 29: If there is any positive outcome of Covid-19, it's that it has put the focus on how the design of the indoor environment affects our health, safety, and well-being. The time has finally come for the world to embrace healthy buildings.
Those of us in the healthcare design industry have been talking about this for years. It was one of the reasons my colleagues and I founded The Center for Health Design in 1993. Full post>>
5. Catching Up With Healthcare Sustainability Expert Robin Guenther
January 22: Like many of the people I know in this industry, I first met Robin Guenther at the Healthcare Design Symposium in the 1990s. She had just started doing talks about sustainable design for healthcare and was a rising star in the field.
After The Center for Health Design (CHD) gave her the Changemaker Award in 2005, she joined the CHD board of directors, which is how I got to know her better. Full post>>
4. What Are We Thinking Now? Recent Articles About Covid-19's Impact On Healthcare Facility Design
March 12: A year ago, I started compiling a list of articles about how Covid-19 is changing how we think about healthcare facility design, including senior care and housing. But the list got a little out of control.
And the thinking is evolving and changing. We know more now than we did last March. So, I'm starting a new list to reflect more recent insights, ideas, and information -- including some voices outside the healthcare facility design industry. Full post>>
3. Designing Interiors to Support Health and Wellness: 6 Strategies
June 4: Last week, I shared some thoughts about designing interiors to support health and wellness for the Spring Breakout event in Columbus, Ohio. And although I usually talk and write about healthcare design, my remarks weren't just meant for healthcare designers.
But the conversation about the physical environment's impact on health outcomes began in healthcare. It was kick-started in 1988 at the First Symposium on Healthcare Design where 500 like-minded healthcare architects, designers, providers, and furniture manufacturers gathered together for the first time. But it actually began a long time ago. Full post>>
2. The Value of Lost Knowledge
May 21: Did you submit a presentation proposal for the Healthcare Design Expo & Conference this year? I did. And guess what?  It was rejected.
Architect Greg Mare and I proposed a session to examine 10 of the most important historically significant events that have impacted healthcare facility planning, design, and construction. Because many of these events are still influencing our thinking today, including how we're dealing with the pandemic, we thought it would be a topic worthy of the conference program. Full post>>
1. How Covid-19 is Reshaping Healthcare: What That Means for Design and Construction
February 19: Are you wondering what's ahead for healthcare that will affect facility planning, design, and construction? Covid-19 is already reshaping healthcare in many ways, as Rod Hockman, M.D., President and CEO of Providence St. Joseph Health, and his colleagues share in their annual list of predictions for the coming year.
Dr. Hockman, who is also the current Chair of the American Hospital Association (AHA), believes that "the crisis has brought out the best in us, and health systems will continue transforming healthcare for the better in 2021." Full post>>
Bonus: Has the Carbon Footprint of Interiors Been Underestimated?
March 26: It shouldn't come as a surprise to hear that the building and construction sectors account for nearly 40% of global energy-related carbon dioxide emissions in constructing and operating buildings. However, it might come as a surprise to hear that the carbon footprint of interiors may be responsible for emissions at least equal to or more than those from the building structure and envelope. Full post>>
Note: I'll be taking a break from writing posts the next few weeks and will be back at it in January 2022. Thanks for reading and Happy Holidays!
P.S. Please do me a favor -- if you liked this post and like this blog, please share it with others by sending them the link or posting it on your Twitter, LinkedIn, or Facebook. Also, don't forget to subscribe, so you'll get emails when new content is posted. Thanks!